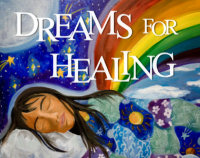 This has been the first information I've come across regarding dreams that spent time helping me learn to break down my dreams and dream symbols so I can interpret and understand how they directly effect me, my emotions and well being.
Philadelphia, PA (PRWEB) November 09, 2012
Self Healing Expressions (SHE), long-time providers of online holistic courses, empowers online learners with a variety of healing courses including a course in understanding dreams for healing and self-discovery. Dreams for Healing by Laura Grace, examines and embraces the depths of dreams and the power they possess. She guides students to understand dream meanings by deciphering their own distinct "dream language" teaching them to put their (night-time) dreams to work for healing and fulfilling their soul's blueprint. Her 19 lesson online dream course, with various web tools, guides students on a journey towards self-discovery and healing.
How are dreams helpful? Through dream recall and thoughtful dream analysis, we learn to recognize:

Limiting patterns.
How to solve relationship challenges and face fears of intimacy.
Be alerted to physical health issues, since dreams have the ability to show you when your body is sick and steps you might take to heal.
Identify warnings, such as: when someone has deceived you, where you have missed the meaning of something important, or how you have behaved in a way that has been hurtful to you or someone else.
Recognize issues that need to be addressed such as addictive behaviors, unhealed "hurts" in relationships, taking a stand for one's self, speaking some truth, and releasing an unhealthy situation such as a job, relationship, or attitude.
Examine a dream to help heal emotional issues such as anger, fear, and/or grief.
Self Healing Expressions' dream course includes features such as an online dream journal, dream score card, and dream theme flash show to name a few.
Maxine Bowden, SHE dream course student, commented: "Though I have read many books on dreamwork, this course has clarified and reminded me of the potential of dreams to help chart our course and lead to inner growth. I am grateful for this. My daughter and I are taking this course together and I treasure the time discussing dreams with her."
It is noteworthy that Self Healing Expressions offers a "two for one" deal, so a student of a given course is permitted to invite someone to take the same course with them at no additional cost. And these courses are affordably priced.
When asked what makes their healing courses unique, June Cook, co-founder of SHE states, "We develop our courses one by one. So while it may take us longer to develop and ready our courses for students, a lot of love and care goes into each and every lesson. Students have told us that the quality of our courses is superior to other online courses in our niche. Students also like the fact that they can select the delivery pace and receive lessons in the comfort and privacy of their own home. For certain challenges, like grief healing or quests like finding your soulmate or life purpose, this is especially appreciated."
Self Healing Expressions aims to guide and empower individuals towards healing, health and wellbeing holistically while providing holistic authors and healers with editorial, marketing and technical support to deliver their healing messages. This long time publisher of online healing courses works with authors who are practicing the healing modality they espouse and champion; authors who are active and respected in their field of expertise. Laura Grace, Self Healing Expressions' Dream Course author and instructor, serves as the Spiritual Director for the Circle of Grace in Central Coast, CA. She has a background in world religions, developmental psychology, and integrative studies. She is trained in psycho-spirituality, Neuro-Linguistic Programming, dream analysis, and Gestalt therapy. Laura is a member of the International Study for the Association of Dreams and has facilitated dream groups since 1994 and lectured extensively on dreams throughout the U.S. To learn more visit http://www.selfhealingexpressions.com.