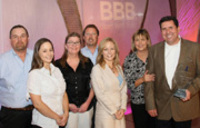 The Torch Awards is the way San Diego annually rewards and celebrates ethical business practices in our marketplace
San Diego, CA (PRWEB) January 4, 2008
President and founder of Dream Design Builders, Jay Riordan lost the family's Rancho Bernardo home during the October San Diego wildfires. Yet on Dec. 4 at the Town and Country Resort Hotel and Convention Center in San Diego's Mission Valley, he celebrated with his wife and company employees. The residential remodeling firm won the 2007 Better Business Bureau Torch Award for Marketplace Ethics in the category of five to ten employees. Dream Design Builders specializes in designing and building room additions, kitchens and bathrooms.
Awakened by their cat on the night of Oct. 22, the Riordan family fled from their home as the fires raced through the Rancho Bernardo community. Over 1650 homes were lost in San Diego County. "We are blessed with the support we have from our family, friends, employees, clients and vendors. It happened, and we will start anew. The heartache comes and goes as you look for that favorite photo. The Torch Award for Marketplace Ethics couldn't have come at a better time for all of us," said Riordan.
Each year, thousands of U.S. businesses are entered in local Torch Award competitions conducted by BBBs in every region of the country. Winning entries from the San Diego competition will be forwarded to the Council of Better Business Bureaus, the parent organization for the BBB network, for an international competition.
"The Torch Awards is the way San Diego annually rewards and celebrates ethical business practices in our marketplace," stated BBB CEO Sheryl Bilbrey. "Each honoree exemplifies that adhering to a fair and honorable marketplace gives a company a competitive advantage, and that BBB ethical standards are the hallmark of a successful, competitive company. The Torch Awards program is designed to promote not only the importance of ethical business practices, but the willingness and efforts made by outstanding businesses to ensure that our marketplace remains fair and honorable," added Bilbrey.
For additional information on the Riordan family rebuilding plans after the destruction of their home during the San Diego wildfires or Torch Award Winner Dream Design Builders, contact Jay Riordan.
About Dream Design Builders:
Founded in 1987 Dream Design Builders is located in Rancho Bernardo, California. The firm specializes in designing and building room additions, kitchen and bathrooms. Remodeling Magazine named Dream Design Builders one of the top 2007 Big 50 Remodelers in the U.S. Jay Riordan is president of the San Diego Chapter of the National Association of the Remodeling Industry.
###