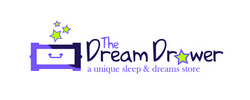 The Dream Drawer caters to both people looking for a better night's sleep as well as those who love to explore dreams.
Kingston, PA (PRWEB) June 29, 2010
TheDreamDrawer.com, an online retailer specializing in unique sleep and dream items, is open for business. The online sleep and dreams store offers items from a variety of suppliers ranging from independent artists and small manufacturers to common household brands: Dream Essentials, Bucky, Native Remedies, Mack's Earplugs, Rossetti Designs, Candi Andi, Sleep Scentsations, Conair and HoMedics.
"The Dream Drawer is a cross between a health and wellness store and a destination for the metaphysical," says Donna Talarico, owner for the online sleep and dreams store. "We cater to both people looking for a better night's sleep as well as those who love to explore dreams."
In its sleeping category, TheDreamDrawer.com features sleeping masks, earplugs for sleeping, aromatherapy products, sound machines, natural sleep aids, relaxation CDs, sleep health and disorder related books and other items which promote healthy, quality sleep.
Dream-related items include dream dictionaries, blank journals for recording dreams and books about lucid dreams and dream interpretation.
The Dream Drawer also carries items that promote waking, including natural sound alarm clocks that rouse users with nature sounds and light. The online store also houses articles and resources on sleep health and dream interpretation and supplements its online store with customer education and engagement through an active blog (News from the Nightstand), Twitter, Facebook and YouTube.
The Dream Drawer is an independently owned eCommerce store based outside of Wilkes-Barre, Pennsylvania. Owner Donna Talarico is a freelance writer, adjunct professor of public relations and works full-time in the marketing department for an eCommerce services company. For more information on TheDreamDrawer.com contact Talarico at 570-287-1375 or thedreamdrawer(at)gmail(dot)com. Additionally, story ideas can be found at TheDreamDrawer.com/Press.
###