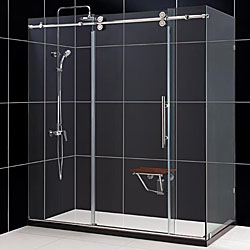 The ENIGA and ENIGMA X Collections by DreamLine will add a touch of sophistication to any shower makeover or bathroom renovation
Aiken, SC (PRWEB) November 14, 2012
Whether one is looking for a standard size shower door, an oversized shower enclosure or even a bath to shower conversion, there is a model that will fit the project. The ENIGMA or ENIGMA X shower door or shower enclosure can save thousands of dollars in comparison to custom glass.
The ENIGMA X collection includes shower, tub and enclosure applications. All models deliver a sophisticated fully frameless glass design, a smooth flawless operation, and a look of custom glass for a fraction of the custom glass cost. The substantial stainless steel hardware includes large innovative wheel assemblies that glide effortlessly across the perfectly engineered track. The beautiful shower doors are crafted from premium 3/8" thick tempered glass that has been factory treated with DreamLine's exclusive ClearGlass™ for superior protection and easy maintenance.
The ENIGMA collection includes shower door and shower enclosure models. This line combines the sleek look of a frameless design with the impressive feel of premium ½" thick glass for an exceptional value. All ENIGMA models are factory treated with DreamLine's exclusive ClearGlass anti-lime scale coating, providing superior protection to the glass for easy maintenance. ENIGMA uses the same, quality stainless steel hardware as ENIGMA X with large wheel assemblies. The ENIGMA shower enclosure has been featured on nationally syndicated home improvement programs, showcasing the fact that homeowners can save thousands of dollars by choosing the ENIGMA shower enclosure as compared to a custom shower enclosure of the same design and quality.
The ENIGMA and ENIGMA X Collections by DreamLine will add a touch of sophistication to any shower makeover or bathroom renovation. DreamLine provides a solution for homeowners who are searching for an alternative to the expense of custom glass without having to settle for a lackluster off the shelf shower door. DreamLine product is a perfect alternative.
All DreamiLine shower doors and enclosures are available at http://warehouse-usa.com and come with free ground shipping to 48 contiguous states. For more information please call the toll free number: 888-693-8066