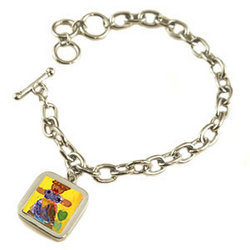 We were thrilled to see the incredible designs all the women created
Manchester, CT (Vocus) September 21, 2010
What do you get when you put 150 Mommy-Bloggers in a room with The Mouthy Housewives and the DreamSakes "Art at the Bar" station at BlogHer?
You get very creative cocktail napkins! DreamSakes was thrilled to scan artwork created on over 60 napkins – adorned with feathers, puff balls, foam stickies, and Sharpies in every color of the rainbow – post them on DreamSakes.com, and let people vote for their favorites.
"We were thrilled to see the incredible designs all the women created," says Susan Smith, vice president of marketing for DreamSakes. "Having the opportunity to scan the artwork on their napkins was a great way to demonstrate just how DreamSakes gives parents a way to de-clutter children's artwork, have it scanned to preserve it forever, share it with others (electronically and on paper), and have it printed on fun and useful custom keepsakes."
So, who won? At first, Silly Mommy Thoughts took an early lead, and seemed unstoppable. Then Guavalicious gave her a real run for the prize and almost overtook her. But in the end, Silly Mommy Thoughts prevailed and won. Lindsay Maddox won a six-charm bracelet to be personalized with her kids' artwork.
Making the prize even more special is that the bracelet is a brand new gift item for DreamSakes. When it is added to the DreamSakes Gift Shop next month, there will also be a matching necklace available. This new jewelry collection is solid zinc metal plated in white bronze. That means it's 100% waterproof and UV resistant. It's also lead-free and tarnish resistant. The charm bracelet is adjustable from seven to eight inches, and can be ordered with anywhere from one to six charms. The necklace includes one charm. Charms are .79 x .79 inches.
About DreamSakes
DreamSakes creates digital images of children's artwork using state-of-the-art scanning technology. Families can preserve the artwork forever, share the images just as they would family photos, and even print the artwork on products to create personal gifts.
Owned by Scan-Optics LLC, the leader in image capture and recognition since 1968, DreamSakes uses the same scanners used by corporations and government departments when quality of scanning is critical. Last year alone, Scan-Optics scanners scanned over 10 billion documents for customers.
DreamSakes is dedicated to capturing and saving children's art. The DreamSakes scanner is specially calibrated to maintain the colorization and complexity of artwork. State-of-the-art imaging technology gently and accurately scans everything from watercolor art to macaroni and cotton ball masterpieces with up to a two-inch topology. For additional information, visit http://www.dreamsakes.com.
###