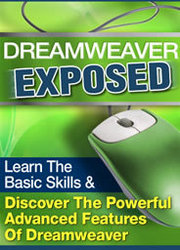 One of the big things I focus on in this course is using CSS with Dreamweaver
El Cerrito, CA (PRWEB) October 15, 2007
For entrepreneurs looking to become skilled at Dreamweaver web design, there is a refreshing new training site designed specifically to help them sidestep the learning curve and immediately make use of this splendid business building tool.
Dreamweaver Exposed, an online paid membership site, has opened its doors and promises to help everyday people understand and make use of Dreamweaver. The web site focuses mainly on Dreamweaver 8, but also has information that is relevant to users of Adobe Dreamweaver CS3.
"Rather than being focused on graphic design and the stuff you might learn at a community college, I wanted to create a Dreamweaver help resource for internet marketing minded people who want to build profitable websites for themselves" says Jay Gilbert, the owner of the site.
"The typical Dreamweaver tutorial I see online is somewhat useful, but seems targeted towards people who want to build really fancy sites for other people as a paid website developer, rather than as an internet entrepreneur. I also find a lot of tutorials that are very technical in nature, and confusing even to me. I'm not a hardcore techie, but I have been working on the internet for several years, and I can immediately see that many Dreamweaver tutorials are at too advanced of a level of nerdiness for regular internet business owners. I empathize with these online entrepreneurs trying to wade through the swamp of technology, because I went through a tough learning curve myself several years ago."
The Dreamweaver Exposed site offers a membership area where paid members can watch Dreamweaver training videos online. As part of the package, they can also download some Dreamweaver templates, as well as get access to a lot of other related web site design resources.
"One of the big things I focus on in this course is using CSS with Dreamweaver" explains Gilbert. "I think it is extremely important to learn CSS website design, so I created example videos, plus I have links to a lot of resources for things like CSS website buttons so that members can just start copying and pasting code to add beautiful rollover buttons to their web pages."
There are currently 5 major areas of the member's only training site:
1. The ABC's of Dreamweaver web design.
2. How to create (and monetize) flexible content sites.
3. How to format direct-response style sales letters for the web.
4. A resources area with dozens of useful links.
5. The bonus downloads library.
Gilbert readily admits that there are definitely Dreamweaver tutorials from other companies that are better at explaining how to build really fancy flash based designs or artsy type websites that may win modern arts awards. However, for those internet entrepreneurs who aren't too concerned with the 'whizz-bang' and just want to build a trust-inspiring, search engine optimized website that focuses on making money, Gilbert dares to suggest his product is most comprehensive Dreamweaver training available.
"My ideal customers are people of any age, from any continent who are interested in building a business for themselves on the internet. These tutorials are for individuals who want to build large content websites and make money with affiliate programs like Adsense or Clickbank. They also are for people who want to create their own direct response style sales letters and sell their own products to any niche conceivable. Really, the most important thing to me is giving the layperson who isn't a hardcore techie the ability to implement their business ideas on the web & hopefully help them to grow their own company or home based business. I think Dreamweaver is an exciting tool for this purpose and that anyone can quickly grasp it with the right tutorials."
To find out more about this training program or to ask Jesse a question directly, visit http://www.dreamweaverexposed.com
Contact
Jay Gilbert
Dreamweaver Exposed
510-409-3479
###