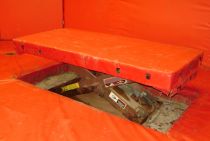 Large animals such as horses, llamas, alpacas, and cats such as lions and tigers, can present a number of challenges when it comes to surgery.
Claremore, OK (PRWEB) September 04, 2012
Most other veterinary facilities have an induction/recovery room apart and separate from the surgery room. AMC, on the other hand, conducts the entire surgery process – induction, surgery, and recovery –in one single room. (Induction refers to administering anesthetic.)
This combined-purpose room was originally the first two stalls in the clinic before Dr. Gilsleider converted it into a padded surgery area. The room has no corners, which means a recovering horse, for example, will not get boxed into a corner unable to get up and then begins to flail and possibly cause harm.
The hydraulic operating table is located in the center of the room. When lowered it becomes level with the padded floor.
Once the large animal is sedated, it's crucial to create a "controlled fall." "It's our practice to push them against the wall, then as they become woozy they ease on down," Dr. Gilsleider explained. "We step out of the way and hopefully they land directly on the table which means very little pushing and pulling on our part. From there it's a simple matter to raise the table and begin the surgery."
When designing the room, Dr. Gilsleider chose red as the best color to conceal blood stains. Special drains installed under the floor allow for easy clean up.
The red vinyl chosen for the room is the same non-tear strength used by dump trucks and 18-wheelers to cover their loads. The foam beneath the vinyl is of the highest density that will never compress – foam that can hold up under the weight of something like an 1800-pound draft horse. It's done exactly that for almost 25 years.
As an added bonus, the room also served as a playground for three growing Gilsleider sons. Wrestling and knocking one another off the raised operating table – complete with a soft padded landing – made the perfect play area.
More importantly, however, owners of large animals can come to AMC for needed surgeries with complete peace of mind regarding the safety of their animals.
About
Dr. Gilsleider graduated from Kansas State University in 1978 with a bachelor's degree in Agriculture/Animal Science. In 1982, he received his Doctor of Veterinary Medicine degree, also from Kansas State. Dr. Gilsleider is a published author of numerous articles in lay journals, veterinary journals, and texts. He has lectured to veterinarians across America and abroad. Dr. Gilsleider has pioneered several orthopedic procedures to correct leg deformities in ratites (ostriches, emu and rhea). Since then, these techniques are used widely in many other species. His practice is located in Claremore, OK, the community where he and his wife, Lisa, have lived for 30 years. The couple has four adult children, four grandchildren and one on the way.
Contact:
1711 North Lynn Riggs Blvd.
Claremore, Oklahoma