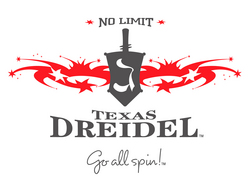 a great innovative way to put a new 'grown-up' twist on playing dreidel
Atlanta, GA (PRWEB) October 20, 2008
Jewish non-profit organizations looking for a unique fundraising opportunity have found the answer in No Limit Texas Dreidel Tournaments. "We had a blast with the dreidels!" exclaimed Rabbi Kenny Weiss, director of the Houston Hillel, describing the games played at last year's Hanukkah party.
No Limit Texas Dreidel is a new game that combines the traditional Hanukkah dreidel game with Texas hold'em poker. While the dreidel game can be enjoyed by a small gathering of dedicated players, enterprising organizations have helped to develop a tournament version that allows large groups to get involved and have fun.
Last Hanukkah, groups of young adults across the country played No Limit Texas Dreidel at their Hanukkah parties. "This year we are thrilled to make it easy for non-profit groups to not only play but also raise funds with No Limit Texas Dreidel," says Jennie Rivlin Roberts, co-inventor of the game along with husband, Webb Roberts.
No Limit Texas Dreidel is "a great innovative way to put a new 'grown-up' twist on playing dreidel," says Cassie Kirschbaum, director of the Young Leadership Division of the Los Angeles Jewish Federation, whose group of adults, ages 25 to 45, had four No Limit Texas Dreidel tables at last year's Chanukah Xtravaganza.
ModernTribe, Rivlin Roberts' company that manufactures No Limit Texas Dreidel, is offering qualified non-profit organizations the option to purchase discounted Tournament Kits, which include two deluxe editions of No Limit Texas Dreidel, instruction cards for each player, tournament rules and promotional materials. Groups can also add related items such as chocolate Hanukkah gelt (coins) and No Limit Texas Dreidel t-shirts, at a discount.
Beyond a fun event theme, a No Limit Texas Dreidel Tournament is a unique fundraising opportunity. Non-profits wishing to raise funds can do so through ModernTribe's consignment program. Interested groups will be shipped games to sell at their tournament. After the event, groups simply ship any remaining games back to ModernTribe; the group keeps 40% of the sales to support its programs.
No Limit Texas Dreidel can be found in stores across the United States this holiday season. For more information about No Limit Texas Dreidel, please visit http://TexasDreidel.com/. If you or your organization would like to host a tournament this Hanukkah, please email Contact@ModernTribe.com or call 877-324-1818.
About ModernTribe
ModernTribe is the creator of No Limit Texas Dreidel. ModernTribe.com is the internet retail store that provides design-conscious Jews with gifts and Judaica that celebrate age-old Jewish traditions with modern style.
# # #