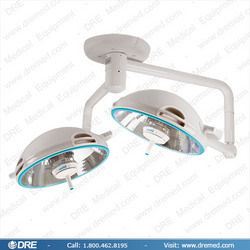 Louisville, KY (Vocus) July 9, 2010
DRE, Inc., a premier surgical and medical equipment supplier, now offers the DRE Maxx Luxx Select, an operating room lighting system that features excellent shadow reduction, easy-to-operate controls and full freedom of movement.
The DRE Maxx Luxx Select allows surgeons to control all light functions from within the sterile field, and incorporates a state-of-the-art cooling system to deliver color-correct, ultra-cool light. It is available with one, two and three lightheads, as well as integrated monitors.
The DRE Maxx Luxx Select is configured with all the performance of a major surgical light, but is affordably-priced for use in the E.R., LDRP, outpatient settings and minor procedure rooms. It features:

Deep cavity illumination: Depth of field negates the need to refocus midway through a procedure.
Excellent shadow control: The multi-faceted reflector generates 1,890 individual rays of light, which tolerate a large percentage of the projected light being blocked before a shadow is evident.
Long lasting bulbs: Provide as much as 1,000 hours of uninterrupted light.
Cool light: The use of a custom-designed IR filter provides maximum comfort during long procedures by reducing radiated heat to a minimum.
Sterile positioning handle: The handle can be removed for sterilization or used in conjunction with a sterile cover. Plus, the handle incorporates the controls for adjusting the light intensity, on/off switch and pattern adjustment.
Full articulation: The sturdy, free-moving support arms provide a full range of movement while remaining totally stable once positioned.
Clean lines: Aesthetics reduce visual clutter and improve cleanability.
Color-corrected light: Lamps are optimized at 4,300° K, which can ensure color clarity of the surgical light.
Convenient controls for intensity are provided on the sterile handle and the wall-mounted panel (or both).
In addition to the Maxx Luxx Select, DRE offers the Maxx Luxx 3, a highly efficient surgery lighting system that provides extremely cool outputs. It produces a lux output of over 100,000 with a 39-watt H.I.D. bulb, and features wide range mechanical dimming, a 4,300° K color temperature and a 6.5" to 9" adjustable pattern.
DRE also offers the DRE V-Series, a line of surgery and exam lights that provide precise, color-correct light. The DRE V-Series includes the compact, economically-priced DRE Vista exam light, fully-featured DRE Vortex spotlight, and high performance DRE Vision Excel operating room lights.
In addition to medical lighting, DRE distributes a variety of new and professionally refurbished medical and surgical equipment, such as the Colin BP-S510 patient monitor, DRE Integra AV-S anesthesia system, and DRE True ECG Series EKG/ECG systems.
The DRE Maxx Luxx Select surgical lighting system is available now from DRE. Surgeons and physicians can learn more about DRE's surgery and exam lighting solutions, as well as other new and professionally refurbished medical products, by visiting http://www.dremed.com.
About DRE, Inc.
DRE is a premier medical and operating room equipment supplier. DRE provides a combination of new and professionally refurbished or used medical equipment to industry professionals around the globe. For the third consecutive year, Business First of Louisville has named DRE one of the 50 fastest growing businesses in the Greater Louisville areas.
###