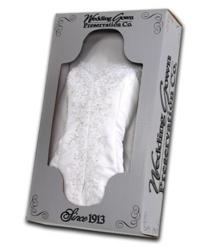 We thought it would be great to offer our brides the peace-of-mind in being able to track their gown as it travels through the preservation facility
Binghamton, N.Y. (PRWEB) February 07, 2013
WeddingGownPreservationKit.com recently launched their new GownTracker™ system to help newlyweds track their wedding gown as it is processing through the company's 5 week preservation service. WeddingGownPreservationKit.com is the leading dealer of the Wedding Gown Preservation Kit which provides brides across the US with mail-in wedding cleaning and preservation services for their gowns.
Co-owner, Nathaniel McCoy, found that wedding dress preservation was a natural fit within the family of wedding related companies he manages and quickly partnered up with a leading wedding gown preservation company to enhance the company's service offerings. Their fledgling company was quickly awarded "Elite Dealer" for their stellar customer service and continues to be a leading distributor of the kit.
"We recently launched our GownTracker™ system in order to combat a recent ABC News story that made national headlines which detailed a bride who had opened up her bridal box after 26 years and found another brides dress. Although the woman behind the story had used a different company that is now out of business, we thought it would be great to offer our brides the peace-of-mind in being able to track their gown on our website as it travels through the preservation facility on its journey back to their homes. The fact of the matter is we've never had a mix-up like the one we read about and have integrated technology and scanning in place to be sure it never does," says Nathaniel.
Nathaniel has already seen tremendous results from the system as the GownTracker™ page is now the most visited on their company website. "I believe this will be a great tool to help us grow the company into the future and offer our customers an enhanced after-sale experience - a must for any company in a competitive industry. We're also excited to announce an agenda to incorporate the tracker into our social media channels. We believe that a bride has enough to worry about after her big day and the last thing we want her to be concerned about is the care of her gown in our hands," says Nathaniel.
About WeddingGownPreservationKit.com
WeddingGownPreservationKit.com is the nation's leading distributor of the Wedding Gown Preservation Kit. In 2012 they were awarded the "Elite Dealer" status which is only awarded to top distributors of the kit for excellence in customer service. To learn more please visit http://www.weddinggownpreservationkit.com.