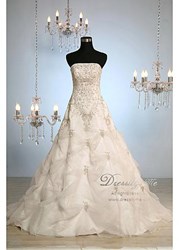 Dressilyme New Wedding Dress Collection for 2014
(PRWEB) January 07, 2014
Being a leading online seller, Dressilyme is continuously innovating its products and offers. Dressilyme offers a variety of formal clothing with classic and quality design. "The material used in the new collection of dresses is of finest quality," promises the CEO of Dressilyme. "It goes without saying that the rates for these dresses are rarely found elsewhere. This company takes customer satisfaction very seriously, and responds by launching affordable quality products."
These dresses are designed to complement beauty and personality, to encourage confidence at important life events. These dresses are versatile, designed to be worn on several occasions. The marketing director of the company proudly says, "We are happy to announce this new line of dresses for new and loyal clients. We're excited to see how these dresses perform in the market."
The designer of Dressilyme adds, "These dresses are highly comfortable and thoughtfully designed. We are happy to release these new dresses, and are determined to make gowns that will be passed down for generations."
When shopping for wedding dresses, customers may customize measurements of the waistline and neckline, sleeve length, dress length and may select the sleeve type. These options allow customers to tailor the design, color and size of their choice. Apart from this, each dress in the new collection is discounted. Now, a classic wedding dress can be purchased as low as 160 dollars. The company sorts dresses according to net worth.
"All embroidery, bridge, and outclass gowns are produced with the finest materials, apart from world class raw material and fabric," said the quality and control manager of the company. "The prime motto of the company is to make the biggest event of a woman's life glamorous, glittering, and matchless."
A perfect marriage ceremony is a long held fantasy for many women. Unfortunately, when it comes to the reality of high priced wedding dresses, those dreams may remain on hold. Dressilyme aims to transform those dreams into reality by implementing affordable prices and discounted offers. This company is determined to bring exceptional products to their customers. The recently released dresses speak volume in this regard.
About Dressilyme
Dressilyme is one the best online providers of wedding dresses, gowns, special event dresses, and bridesmaid dresses. The company offers unique designs of the finest quality at fashionable rates. Dressilyme delivers ready-made material within 24 hours of booking. Contact the company at: http://www.dressilyme.com/help/helpdetails-35-4.html