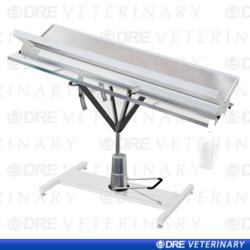 Louisville, KY (PRWEB) May 13, 2011
DRE Veterinary, a premier veterinary surgery equipment supplier, has expanded its already impressive catalog of veterinary exam and surgery tables to include the new DRE Edge – a stainless steel V-Top surgery table packed with features at a reasonable price.
"The DRE Edge is perfect for procedures requiring precise animal positioning," says Nathan Claypool, Director of DRE Veterinary. "You can adjust the table easily with the foot operated pump."
Equipped with a brake, the heavy-duty hydraulic pump on the DRE Edge is easy to position at exactly the height desired, between 29 and 37 inches. Additionally, the table features 360-degree revolving top locks for any position or height.
Constructed of 16-gauge type-304 stainless steel, this table is sturdy and easy to clean, providing long life and ease of use. The extra-heavy-duty H-base enables the DRE Edge to accommodate animals up to 300 pounds and is coated with an FDA-approved powder epoxy finish for durability.
The DRE Edge features two die-formed stainless-steel table leaves which can be positioned independently to let the user create the angle that holds the animal just right for the procedure. Convenient locking and release knobs on both table leaves are located at each end of the table so that adjustments may be made from several locations. A drain trough beneath the center of the table directs fluids to a central drain hole to keep the operating site clear. An included accessory rail on both sides is ideal for keeping needed supplies close at hand.
The DRE Edge is available in 48-inch and 60-inch lengths. The H-base may be equipped with heavy duty floor levelers for stationary applications, or with four locking casters for easy mobility.
Additional details about the DRE Edge can be learned at http://www.dreveterinary.com.
About DRE Veterinary
DRE Veterinary is a premier supplier of veterinary and laboratory research equipment. DRE Veterinary provides new and refurbished veterinary medical equipment to universities, surgery centers, research facilities and veterinary practices around the globe. DRE Veterinary's parent company, DRE Inc., was established in 1984 and offers value to doctors by providing the features and reliability they need while fitting within their budget.
###