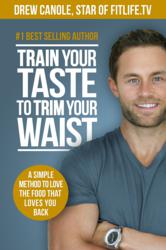 This is the first [book] I've read that offered guidance on how to PREFER eating healthy.
San Diego, CA. (PRWEB) November 27, 2012
If healthy food tasted as delicious as fried food there would be no obesity epidemic in this country. And if grilled chicken and steamed broccoli was a popular craving, instead of pasta and breadsticks, perhaps there would be a lot more six-pack abs on the beach during summertime. These hypothetical situations are the foundation for a brand new bestselling book by celebrity transformation and nutrition specialist, Drew Canole.
Yet, as hypothetical and unlikely as these scenarios sound, they're not only possible, they're the key to transforming a dreadful diet into a fit and healthy lifestyle.
Many dieters complain that their lack of willpower keeps them returning to familiar favorites and comfort food, the kind of food that caused their weight gain to begin with. However, willpower is unnecessary, according to Canole, if one's craving is for health, nutritious food.
Now, in his brand new book, "Train Your Taste To Trim Your Waist: A Simple Method To Love The Food That Loves You Back," Canole explains how to literally transform even the most stubborn taste buds to crave healthy, fat burning, weight dropping food and actually enjoy every meal.
Canole even offers a special way to "cheat and treat" in order to achieve lose weight quickly, and is one of the primary keys to successfully training one's taste.
Most dieters who cheat do so because they are being deprived and need to "get their fix," thus never breaking their fondness for junk food. However, by use of Canole's "strategic craving-deferral strategy," as outlined in the book, one's cravings are not only satisfied but their body is reminded just how much better it feels when eating healthy food.
Reader Valerie Ditta states: "from someone that has read hundreds if not thousands of diet books over the years, I found this approach to be unique. Most diet books give reasons to eat healthy, ideas on how to eat healthy… But this is the first I've read that offered guidance on how to PREFER eating healthy."
Readers will also discover:
A simple, 21-day method to lose weight by learning how to finally enjoy, and even crave, healthier food. "It never feels like you're on a diet, so you never fall off of it," Canole states.
How a groundbreaking scientific study proves that one's desire for unhealthy foods is outside of our control and why it is sometimes so hard to eat healthy foods.
7 simple steps to train one's taste to actually seek out healthy food and a Canole's strategic-deferral-method of crave-curbing that he states makes his program work even for those who have tried every method in the past.
Drew Canole is already a bestselling author with his book of juicing recipes and they play an important role in the success of the program inside this new book.
As a remedy to overeating this Thanksgiving holiday and in honor of Black Friday, Drew Canole and Jay Kordich ("The Father of Juicing"), have inserted a surprise $100 coupon inside page 49 of the book, "Train Your Taste To Trim Your Waist," redeemable for a brand new Jay Kordich PowerGrind Pro Juicer.
The $100 coupon is redeemable until November 30, 2012 and is transferrable, so it can be given away or used as a gift this shopping season. Readers who do not own an Amazon Kindle can still download a copy of the book and read it for on their internet browser, tablet or smartphone using the free Kindle Cloud Reader app.
"Train Your Taste To Trim Your Waist" is available here on Amazon. Or by visiting the following link: http://trainyourtaste.com/get100
For media inquiries, to arrange for an interview or an expert quote on natural weight loss, juicing, transformation or fitness, especially during these holiday-challenged times. Please contact Rebecca Bamberger at (619) 917-5109