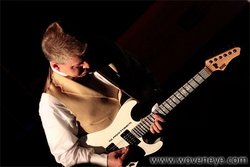 "[SPIN CYCLE] is filled with great ideas, killer melodies and exceptional craftsmanship. Fun, fresh, funky…Drew Davidsen is one of the hottest new forces in Smooth Jazz!"
Towson, MD (PRWEB) March 24, 2011
Drew Davidsen, award winning jazz guitarist, the first ever to record commercially with brand new GlassTones patented technology announces release of newest album. SPIN CYCLE. By touring with the prototype and recording on an album debuting at #27 on the Billboard Contemporary Jazz Charts Davidsen confirms GlassTones decision to make him their #1 endorsing artist. http://www.DrewDavidsen.com
GlassTones innovator, Mark Payung, takes his inspiration from a glass slide. He is turning the guitar world upside down; instead of having a glass slide on the strings, he has the strings resting on glass. On a GlassTones guitar the strings always vibrate between two points of highly dense silica material. This creates the crystal clear sound recorded on SPIN CYCLE, Davidsen's 4th album produced by Eric Copeland, Creative Soul Jazz, mixed by Grammy winning engineer Bill Whittington.
Most guitar players spend up to half of their lives searching for the perfect tone, their "Holy Grail." This can involve gold tipped cables, amp modeling pedal boards, rack mounted effects, computer programs - the list of toys is endless.
The truth is that real, pure, even tone with long sustain comes when the string is in contact with very dense material. On a traditional guitar, the fretboard is wood, the frets and the saddle are metal, the nut is bone or plastic, creating a mix of overtones and limited sustain. GlassTones innovation has purified the string vibration, eliminating these overtones and multiplying the sustain with a design that allows the strings to always be in contact with - between two points - highly dense silica material, a substance 4 times more dense than material in any traditional guitar. This is the same material used in an astronaut's visor. For more specifics see http://www.Glasstonesllc.com
When Davidsen met Mark Payung on a trip to Nashville, and heard his claims for his new innovation, his curiosity was peaked, but in the back of his mind he was a little skeptical that his personal search for the holy grail could be over. Davidsen invited Payung and his guitar into a recording session on the WE 3 STRINGZ album. In the heart of Music City, where they have seen and heard it all, with Davidsen's producer, and other musicians present, eyes got wider and heads turned as "O Holy Night" was conceived with a 5th generation GlassTones prototype. Davidsen continued to test this prototype in his studio and on the road for several more months. Confidence built resulting in the GlassTones guitar being preferred for the newest album, SPIN CYCLE.
Sandy Shore of SmoothJazz.com reports that SPIN CYCLE "is filled with great ideas, killer melodies and exceptional craftsmanship. Fun, fresh, funky…...featuring accomplished keyboardist Jay Rowe (Special EFX). This project is hot on the heels of Drew's critically-acclaimed holiday release WE THREE STRINGS featuring Chuck Loeb and Paul Jackson, Jr. SPIN CYCLE can be gentle at times with tender tunes like "Alexander's Dream," "Catalina Blue," and "My Father's World," but mostly it whirls, twirls and shakes with upbeat, original compositions and stunning guitar work! Fans of Ritenour, Benson and Acoustic Alchemy will dive into the spin with songs like the sophisticated "Cosmopolitan," the driving "Don't Delay," and the fun title track. We expect big chart action and lots of sales on this one… Drew Davidsen is one of the hottest new forces in Smooth Jazz!"
###