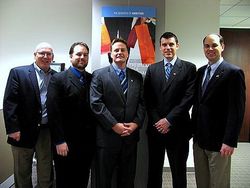 I love that Drexel encourages us to enter these types of competitions and gives us help in preparing.
Sacramento, CA (Vocus) March 5, 2010
Every year, graduate students from seven prestigious Philadelphia universities – the University of Pennsylvania's Wharton School, Penn State University, Drexel University, LaSalle University, St. Joseph's University, Temple University, and Villanova University – compete for $25,000 in prize money, developing innovative strategies to help solve a hypothetical business challenge.
This year, the competition in Philadelphia will have a Sacramento twist.
In the first round of the competition, four MBA students from Drexel's Center for Graduate Studies in Sacramento defeated seven teams of their fellow students from Drexel's LeBow College of Business in Philadelphia, earning the right to represent the University against the finalists from the other Philadelphia-based schools.
The April 8 competition will be held in Philadelphia and the winning team earns $10,000. Second place receives $7,000 and the remaining money is split among the next four finishers. Drexel will be flying its four students to Philadelphia for the finals.
The Sacramento team of Ryan Baker of Sacramento, Robert Dodge of Rocklin, Scott Freeman of Citrus Heights and Paul Green of Stockton used their combined business acumen to advance to the finals in the fourth annual Association for Corporate Growth Philadelphia Cup, a contest open exclusively to MBA and MS Finance students attending the seven universities.
The Sacramento students were encouraged to participate by David Stewart, who relocated from Drexel's Philadelphia campus a year ago and now heads up the MBA program in Sacramento. In 2007, Stewart was the driving force behind launching the Philadelphia Cup.
"Our team did a fantastic job in the competition," Stewart said. "Our Sacramento students are obviously demonstrating that the program here is every bit as strong as the one on the East Coast. Drexel feels it's important to integrate these types of experiences into the curriculum for our students. It goes above and beyond what we are teaching in the classroom."
This year the Philadelphia Cup case study was a classic buy-side investment banking scenario. The study concerned a hypothetical Cable DSL company that was considering a merger acquisition. There were multiple layers of complexities to the merger, and the teams had to evaluate if the buyout was ultimately a good idea and make their recommendations.
The competition, which included elaborate PowerPoint presentations, was done through Drexel's state-of-the-art videoconferencing system, which brought together in real time the seven teams from Philadelphia and the one Sacramento team. The judges were in the same classroom where the Philadelphia students made their presentations.
Participating in the Philadelphia Cup was no simple undertaking for the Sacramento-based students, who are all juggling regular day jobs, a demanding workload as students, and family responsibilities. Still, they met for approximately 50 hours over a two-week period to prepare for the contest, often not leaving the Graduate Center at One Capitol Mall in downtown Sacramento until 11:30 at night.
The students all give credit to their coach and mentor, Associate Professor of Finance Jacqueline Garner, a tenured member of the Drexel faculty in Philadelphia who is teaching this term in Sacramento
"I love that Drexel encourages us to enter these types of competitions and gives us help in preparing," said Dodge, an IT Director for Magnadyne Corp in Los Angeles. "Experiences like this one take you out of the classroom and put you in the real world. You learn things you can't get in a traditional classroom setting. Our team is very proud of winning and is really looking forward to the finals in Philadelphia."
Drexel opened its doors to students in Sacramento in January 2009 and more than tripled its enrollment in its first year. It expects to have a total of over 250 students enrolled when classes in its third entering class begin at the end of March. The eight graduate programs offered this year are designed for working professionals and focused at the heart of Greater Sacramento's growth and economic development initiatives – entrepreneurial business, human resources, education, knowledge management and information science.
For more information on the Center for Graduate Studies, visit http://www.drexel.edu/sacramento or call (888) 389-3781 or (916) 325-4600.
###