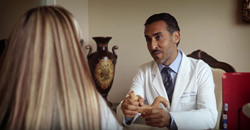 Dr. Feiz notes improving or defeating diabetes altogether is definitely helping many of his patients to sleep better at night.
Los Angeles, CA (PRWEB) February 22, 2016
According to an article published February 16th on 13 News Now, getting enough sleep is instrumental to meeting weight loss goals. A physician mentioned in the article notes that, because the body's metabolism changes when it doesn't get enough sleep, the brain tends to become more attracted to fattening junk food. According to Los Angeles bariatric surgery clinic Dr. Feiz & Associates, this information is not surprising; when people are tired, they may be less likely to stick to important diet and exercise routines. Additionally, the center notes, people struggling with severe obesity are much more likely to suffer from sleep apnea, which is a health complication that makes it harder for the individual to get deep, restorative sleep. The result is a vicious cycle of weight gain and increasingly poor sleep quality.
Dr. Feiz & Associates explains that obstructive sleep apnea is present among 60% of patients undergoing bariatric surgery, and it is characterized by short, periodic cessation of breathing during sleep due to the collapse of soft tissue in the throat. The surgical center notes that severe obesity is the leading cause of this concern as well as other respiratory problems; the heavier a patient is, the more weight and fat presses down on the chest and lungs. Dr. Feiz & Associates explains that on the bright side, recent research found obstructive sleep apnea to be resolved in 85.7% of patients following weight loss surgery. Michael Feiz M.D., F.A.C.S., the lead bariatric surgeon at the center, explains that, while obesity engenders myriad health complications, bariatric surgery, which includes sleeve gastrectomy and application of the Lap Band, can also lead to long term remission in this and the following problems:
Depression – Problems like sleep apnea and insomnia often go hand-in-hand with depression. Moreover, living with obesity can make physical activity with friends and family a real challenge, Dr. Feiz explains. Thus, once patients are able to sleep better and become more active, they often report improved quality of life, social interaction, and psychological well-being. Weight loss, Dr. Feiz notes, combined with counseling, can have a dramatic impact on improving mental health and lifting one's mood.
Type 2 Diabetes – While once thought of as an irreversible condition, Dr. Feiz explains that this serious metabolic disorder can be significantly improved when a patient's weight is reduced and kept off in the long term; indeed, in many cases a complete remission is possible. One of the best ways to bring about this change, Dr. Feiz notes, is bariatric surgery. He explains that due to an improvement in the condition following their weight loss surgery, a great many patients have demonstrated less reliance on diabetes medication or insulin or have been able to give it up entirely. Dr. Feiz notes improving or defeating diabetes altogether is definitely helping many of his patients to sleep better at night.
For more information about the success that Dr. Feiz and his patients have achieved, readers may give the bariatric surgery clinic a call at (310) 855-8058 or visit the clinic's website at http://www.DrFeiz.com.