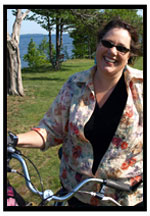 Joan is breaking down barriers. Instead of moving on when she discovered there were no bikes out there for someone her size, she did something about it.
Atlanta, GA (PRWEB) September 12, 2011
On Thursday August 11th, 2011, Atlanta Business RadioX Hosts Dr. Adam Shafran and Lee Kantor had a chance to chat with Joan Denziot whose Super Sized Cycles were recently featured on ABC's Extreme Makeover: Weight Loss Edition.
When Extreme Makeover Weight Loss Edition's host and trainer Chris Powell was looking for a bike for one of his trainees, James, he turned to a good friend of the Dr. Fitness and the Fat Guy Show, Joan Denizot. Joan created Super Sized Cycles when, after gaining some weight herself, she was informed that she wasn't the right size for a bicycle.
Instead of copping an attitude, she created a positive movement of empowerment and self respect, designed innovative, comfortable bicycles able to hold 550 pounds, and set out to remind us all that "Zize", like life, is all about attitude! She says "A surprising, overlooked solution to fitness; bicycles offer a fun, easy way to get in shape, for all sizes of bodies," and she was happy to help Extreme contestant James Garrison bike his way to losing over 300 pounds in one year.
James said he loved riding his bike so much that it was easier for him to ride for several hours a day then walk or run on a treadmill. Joan bike's can easily hold a person who is over 500 pounds and can even be custom made to hold a person heavier than that. Her company makes low maintenance bikes with disc brakes on the front and rear. They have comfort seats and even come with electric assists, which are perfect for hilly areas in case you need some help getting up the hills.
During the interview, Joan shared her own story and love of biking and talked about the frequent emails she gets from customers who have lost 100+ pounds. She explained that her bikes are made for anyone who weighs over 300 pounds and can hold someone over 750 pounds. She also suggested a great resource for bikers; the Rails to Trails Program which is a website that will help you find a trail near you to explore.
Dr. Shafran notes, "Joan is breaking down barriers. Instead of moving on when she discovered there were no bikes out there for someone her size, she did something about it. Joan found a niche in a market that had forgotten about her and ran with it. Now she inspires millions each day doing something she loves."
The full interview can be heard on The Dr. Fitness and the Fat Guy blog.
About Dr. Fitness and the Fat Guy:
Dr. Adam Shafran and Lee Kantor have broadcasted and podcasted hundreds of Dr. Fitness and the Fat Guy shows on topics such as: weight loss tips, easy healthy eating tricks, quick strength training workouts, fitness gadgets that work like the Jump Snap or the Stress Eraser, great diet books, how to run a 5k or marathon, diet books to avoid, fad diets, scam diet pills, how to peel a pomegranate, how to look like a playboy playmate and what's true and what's too good to be true in health and wellness. They also co-authored the book You Can't Lose Weight Alone: The Partner Power Weight Loss Program.
About Atlanta Business RadioX:
Atlanta Business RadioX provides a turnkey solution for business owners who want to leverage the power of internet radio to meet their best prospects, establish credibility for their organization and heighten the placement of their brand in search engines rankings. With a professional venue and a proven formula, Atlanta Business RadioX helps hosts podcast their shows and create a regular stream of dynamic content to share with their prospects and feed the search engines every week. Programs are recorded and streamed live to the internet from our corporate offices in suburban Atlanta. For more information or to see a live show, visit: http://www.BusinessRadioX.com.
###