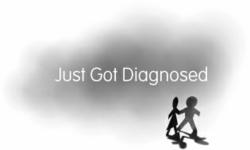 Healthcare professionals are often not trained to provide the support that patients need to help them to become prepared for the road ahead.
New York, NY (PRWEB) January 19, 2012
Dr. Gary McClain announces the publication of a new supplementary textbook. When patients are presented with the news that they have been diagnosed with a chronic or catastrophic medical condition, they are faced with a multitude of challenges – emotions, questions, treatment decisions – for which they are unprepared. They often look to the members of their healthcare team for help. After the Diagnosis: How Patients React and How to Help Them Cope is the first comprehensive textbook to prepare healthcare professionals to help patients to cope with these challenges.
"Healthcare professionals are the first line of emotional support," said Gary McClain, PhD, nationally recognized expert, author and founder of JustGotDiagnosed.com. "But they are often not trained to provide the support that patients need to help them to become prepared for the road ahead. My book will give them the guidance they need to feel more comfortable in this role."
Topics covered in the book include:
1. Understanding how patients react to a medical diagnosis
2. Acknowledging and confronting the fear factor
3. Emotions and healthcare decision making
4. Encouraging patients to gather information
5. Communicating with family members and caregivers
6. Connecting with meaning and spirituality
7. Creating a vision for the future
"The guidance I provide in my book is based on recognizing emotional reactions," McClain said. "Patients are not able to move forward with the important tasks like information-gathering and making treatment and lifestyle management decisions if they are emotionally overwhelmed. And professionals can't help them if they don't understand these emotional reactions and how to help patients cope. This begins by recognizing and acknowledging their own emotions."
About Dr. Gary McClain and JustGotDiagnosed.com
Dr. Gary McClain is a licensed counselor, educator, and author who specializes in working with individuals who have been diagnosed with chronic and catastrophic medical conditions, focusing on issues that include coping emotionally, gathering information, making lifestyle and treatment decisions, managing relationships, and communicating with healthcare professionals. Founded and developed by Dr. McClain, JustGotDiagnosed.com offers information, guidance and inspiration for newly diagnosed patients, their caregivers, and healthcare professionals. Visit http://justgotdiagnosed.com.
###