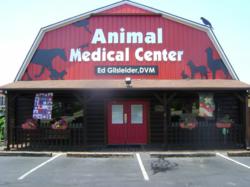 Care of an exotic pet amounts to more than just food and water and a habitat area.
Claremore, OK (PRWEB) August 18, 2012
Dr. Gilsleider says that most of the diseases seen in reptile pets are husbandry issues. (This refers to everything the animal needs to be healthy – environment, hygiene, feed, nutrition.) In exotic animals nearly all diseases are due in part to the pet owner's mismanagement of husbandry.
"It's because pet owners are unaware of the needs of their pet," Dr. Gilsleider points out. "Care of an exotic pet amounts to more than just food and water and a habitat area."
Problems to look for may include:

The pet may not be getting enough Vitamin D3 from sunlight.
The temperature may be too low in the aquarium or terrarium. (Reptiles need either hot/humid or hot/dry conditions depending from where they originate.)
There may not be enough calcium in the live prey that's being fed to them.
Dr. Gilsleider says reptile pets are brought into their clinic suffering with metabolic bone disease where the bones soften. This means a fracture can easily occur, or they may be unable to chew due to soft bones in the mouth area. This condition occurs because the animal is not getting enough direct sunlight. They need the UVB rays from the sunlight. Says Dr. Gilsleider, "Pet owners may be unaware that even light through a window is being filtered; it's direct sunlight that reptiles need."
The solution may be as simple as taking the animal outside for 15 to 20 minutes a day, even on a chilly day. "Reptiles can take the ups and down in temperatures," Dr. Gilsleider explains, "but they need that Vitamin D."
An additional solution for the symptoms of metabolic bone disease might be a change in diet, or adding supplements to increase calcium intake.
Rather than surmising the pet has some scary infectious disease, check with your local veterinarian. Take the time to ask questions. Learn exactly what your reptile pet needs in order to enjoy optimum health.
About
Dr. Gilsleider graduated from Kansas State University in 1978 with a bachelor's degree in Agriculture/Animal Science. In 1982, he received his Doctor of Veterinary Medicine degree, also from Kansas State. Dr. Gilsleider is a published author of numerous articles in lay journals, veterinary journals, and texts. He has lectured to veterinarians across America and abroad. Dr. Gilsleider has pioneered several orthopedic procedures to correct leg deformities in ratites (ostriches, emu and rhea). Since then, these techniques are used widely in many other species. His practice is located in Claremore, OK, the community where he and his wife, Lisa, have lived for 30 years. The couple has four adult children, four grandchildren and one on the way.
Contact:
Animal Medical Center Claremore
1711 North Lynn Riggs Blvd.
Claremore, Oklahoma