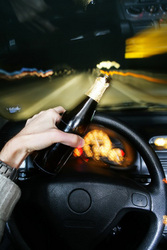 Drunk driving takes lives of innocent people, even children.
(PRWEB) February 4, 2011
Trois-Rivieres, QC Narconon Trois-Rivieres is launching a Drinking and Driving PSA campaign for Canada in order to counter raising statistics of fatal accidents due to impaired driving. Anyone who gets behind the wheel of a car and operates it while intoxicated is risking not only their own life, but many others as well. This is true even if it happens for the first time. All it takes is one time with a drunk driver for someone to get killed. Anyone who is willing to take that chance obviously needs counseling. If nothing else, they need a reality check. Drunk driving takes lives of innocent people, even children. There is no excuse for it. That's why we've launched our second Drinking and Driving video PSA this week reports JF Dubreuil of Narconon Trois-Rivieres.
Drunk drivers are taking many dangerous chances every time they get behind the wheel of the car. They disregard not only their own safety, but that of others. This type of thinking is extremely dangerous. They cognitively know the dangers of drunk driving, and yet deny that alcohol affects their own driving. This should be sending up a red flag across the world. Too many people have died because someone drove after consuming alcohol. Letting it happen only once is too many.
Alcohol impairs reaction time and judgment. That is a known fact. Often, because of the effects of the alcohol, the drunken driver survives the accidents, but others aren't so lucky. It takes only a split second swerving into the wrong lane for disaster to occur. By then, it's too late. Then, the drunk driver must take responsibility for his or her actions. Too often, they turn, once again to alcohol. There is no such thing as an accidental drunk driving accident.
Alcohol rehab helps people to take responsibility for their actions. Drinking and driving is simply not acceptable and should be reason for treatment of some kind. It is so prevalent that many people do not even blink when someone confesses they were drunk the night before and it is assumed they drove home. That shows how society has silently accepted drunk driving. If someone were drunk and waving around a machine gun, plenty of people would be taking notice. A car is a weapon when in the control of a drunk driver. It's as simple as that.
Every time someone drives drunk, it gets easier and easier for them to do it. It is only a matter of time before something terrible happens. Obtaining alcohol rehabilitation can very well prevent some innocent person from being injured, or even killed. That alone makes it worthwhile.
Narconon Trois-Rivieres is launching this campaign after a successful Drinking and Driving video PSA run during the Holiday Season: The Narconon Trois-Rivières - Don't Drink and Drive PSA.
For more information about the alcohol rehabilitation program offered at Narconon Trois-Rivieres call 1-877-782-7409.
© 2011 Narconon Trois-Rivières. All Rights Reserved.
NARCONON is a trademark and service mark owned by Association for Better Living and Education and is used with its permission.
# # #