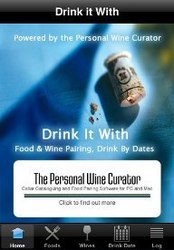 Cambazolla and filet mignon? What about the mustard sauce? Too spicy?
Los Angeles, CA (PRWEB) October 16, 2009
Imagine you are shopping at your local market for the evening's dinner party. On the menu will be frisée salad, filet mignon with mustard sauce and couscous, a nice Cambazolla cheese recommended to you by the surprisingly helpful deli attendant, and perhaps a cherry cobbler to sweeten the late hours before everyone packs it in for the night. All in all, you seem pretty pleased with yourself. And then you have to figure out what wines to pour. "Cambazolla and filet mignon? What about the mustard sauce? Too spicy?"
7,500 Possible Food and Wine Combinations
Enter the new iPhone app, "Drink It With," a food and wine pairing guide that includes over 7,500 possible combinations of specific foods or dishes with nearly 200 categories of wine types. A simple lookup of filet mignon will find Brunello di Montalcino, among other wines. Click for more foods that go with that wine and discover mustard sauce and couscous, too. Cambazolla gets you Rioja Reserva. And for starters how about a white Sancerre with your frisée? Finally, a search for cherry cobbler yields many nectarous choices, including late harvest Riesling.
Technology from The Personal Wine Curator
The technology behind all these delectable pairings comes from the popular wine cellar organizing software, The Personal Wine Curator, developed by the Los Angeles based company The Wine Curators. "PWC," as co-creator (and wine lover) Joshua Beckett likes to call it, "was intended for people who really would rather spend more time drinking their wine and less time poking around in their cellar looking for it, or wasting their weekends figuring out complicated software in order to keep track of what they're buying and drinking." With over 125,000 wines listed in The Personal Wine Curator's online community database of shared records, his customers clearly find good use for the program.
Also Includes Unique Aging Potential Calculator
"Drink It With" also includes a pairing log to keep track of your successful food and wine pairings (and outright failures, if you care to be reminded of them), as well as PWC's unique aging potential calculator, which lets you look up wines for suggestions on drink-after and drink-by dates. For quick reference, a glossary of wines includes definitions, context and flavor profiles. A free "lite" version of the application will also be available for downloading. Too bad it won't keep your calories down while you indulge in your next feast.
# # #