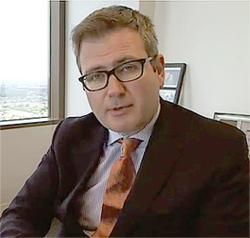 This level of oversight is long overdue. Unfortunately, it will do nothing for those who have already been harmed.
St. Louis, MO (PRWEB) February 01, 2013
John J. Driscoll, a nationally recognized defective medical products attorney, said today that he endorses the U.S. Food and Drug Administration's proposal to require metal-on-metal total hip replacement system manufacturers to submit premarket approval applications for their products.
"This would require artificial hip manufacturers to go through a much more stringent process before their products can get on the market, and in that sense, the FDA proposal could be effective in protecting the health and safety of future hip implant patients," Driscoll said.
"This level of oversight is long overdue," he added. "Unfortunately, it will do nothing for those who have already been harmed."
Driscoll said his law firm currently is reviewing claims of injury from throughout the U.S. by patients who received metal-on-metal hip implants, including those manufactured by the DePuy division of Johnson & Johnson.
The DePuy ASR XL Acetabular Hip System was voluntarily recalled in August 2010 after data from the United Kingdom joint registry indicated that approximately 13 percent of the implants required revisions within five years of the original surgery.
Driscoll pointed to a recent New York Times report that described problems attributed to metal-on-metal hip implants as representing "one of the biggest device-related failures in decades."
Metal-on-metal hip implants consist of a ball, stem and shell made from cobalt-chromium-molybdenum alloys, the FDA says. As portions of the implanted joint rub against one another, they shed metal fibers that can damage bone and/or soft tissue surrounding the implant and joint. This is sometimes called an "adverse local tissue reaction (ALTR)" or an "adverse reaction to metal debris (ARMD)," according to the FDA.
The FDA says these hip-replacement devices were allowed onto the market through the FDA's 510(k) premarket submission program. The program permits manufacturers to bypass the FDA's more stringent PMA process by stating that the new medical devices are "substantially equivalent" to previously-approved medical products
The Times quotes Dr. William H. Maisel, deputy director for science at the FDA, as saying that "the agency's proposal would require makers of all-metal hips to produce clinical data to justify their use because of the 'large number of patients who received these products and the numbers of adverse events associated with them.'"
About The Driscoll Firm, P.C.
The Driscoll Firm, P.C., is dedicated to fighting for the rights of people and families injured by the wrongful acts of individuals and companies. The firm is currently investigating national injury claims involving product liability, defective drugs, dangerous medical devices, medical malpractice, car accidents, premises liability, spinal cord injuries, birth injuries, Cerebral Palsy, brain injuries, Erb's palsy and other circumstances that have caused serious injury or death. The Driscoll Firm, P.C., is based at 211 N. Broadway, 40th Floor, St. Louis, MO, 63102, and serves clients nationwide. To learn more, call (800) 305-9800 or use the firm's online contact form. All initial consultations are free and confidential.