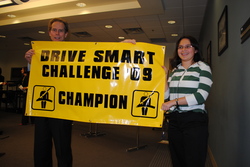 Traffic crashes are the number one killer of teens, and our community has been pulling together for the past 21 years to keep our teens safe.
Colorado Springs, CO (PRWEB) October 19, 2010
Every year, a new group of young and mostly inexperienced teen drivers takes the road--and all too often without buckling up first. The good news is that one local organization is going straight to the source and asking teens to help encourage their peers to be safer drivers. DRIVE SMART Colorado, a community traffic safety program, is inviting local teens to use their creativity and be part of its annual fall campaign to promote safe driving habits.
Aimed at high school students, the DRIVE SMART High School Traffic Safety Challenge is one of the organization's most popular programs and invites students to enter a friendly competition that addresses general driving concerns ranging from seat belt use and traffic laws to the dangers of driving while distracted or under the influence of drugs or alcohol. Nearly 25,000 students and staff members from area schools participate in the seven-week challenge, which kicks off this week.
An entire high school can participate, or individual classes can compete as well. The challenge begins during a breakfast, where all the schools come together to get their supplies, manuals, and other materials for the challenge. Then, the students begin their seat belt educational campaigns with posters, displays, presentations of their choosing or creation. From producing public service announcements for radio and television and writing plays to presenting car crash rescue simulations and inviting speakers to their schools, students are able to choose how they want to convey their messages.
"This campaign would not be possible without the support of community sponsors, law enforcement agencies, and schools," said Maile Gray, executive director of DRIVE SMART. "Traffic crashes are the number one killer of teens, and our community has been pulling together for the past 21 years to keep our teens safe."
Dedicated representatives from local businesses, government, hospitals, law enforcement, and military come together to help these teens create messages. One such business, McDivitt Law Firm, has sponsored the video PSA portion of the challenge since 2009. Last year, the law firm awarded $300 to the group that produced the winning PSA and covered the cost to televise the PSA on several networks.
"Our goal is to help DRIVE SMART educate young people in making good decisions when driving," said Karen McDivitt, community outreach coordinator at McDivitt Law Firm. "This is important to our firm because we see many tragic accidents that could have been avoided if the driver had chosen not to drink, had worn a seat belt, or had not used a cell phone while driving. These students have educated themselves about the importance of safe driving and presented the information in creative and meaningful ways to their peers,"
Students from 30 area high schools run the challenge and, in turn, gain skills in the following areas: planning and organization, time management, teambuilding, leadership, and community involvement. Most significant, they learn the importance of wearing safety belts.
Since the program began, area teen seat belt usage has improved 13 percent. In fact, the Colorado Department of Transportation recently stated teens in El Paso County, Colorado, have an 89 percent safety belt usage rate, which ranks them No. 1 in the state of Colorado.
Get Involved with DRIVE SMART
Many programs need operating funds and volunteers to assist with the various events, and sponsors and volunteers are always welcome. To get involved, call Maile Gray, Executive Director of DRIVE SMART Colorado, at (719) 444-7534, or attend a DRIVE SMART Steering Committee meeting on the second Tuesday of each month. Meetings are held at 10:30 am at the Gold Hill Police Department substation located at 955 W. Moreno Avenue in Colorado Springs.
About DRIVE SMART Colorado
DRIVE SMART Colorado is a nationally recognized, award-winning community traffic safety program aimed at reducing the number of traffic crashes through community collaboration and education. The program began in 1989 as a corporate education campaign and has grown into a stand-alone, grassroots nonprofit organization. Today, DRIVE SMART's steering committee comprises community members, including those from law enforcement, hospitals, public health, emergency medical services, businesses, schools, Mothers Against Drunk Driving, and Colorado Springs SAFE KIDS, to name a few. To learn more, visit http://www.DriveSmartColoradoSprings.com.
About McDivitt Law Firm
McDivitt Law Firm is a community service-oriented and respected law firm that provides legal advice and representation to those who have personal injury claims. The firm has an outstanding team of lawyers, paralegals, and support staff that provides thorough representation for injured people. Whether the law firm is sponsoring DRIVE SMART Colorado, hosting its safe ride home program, or supporting area charities, the members of the firm genuinely care about their neighbors. Because of this commitment to helping others, they created McDivitt Makes A Difference--a year-round program that encompasses all the firm's community efforts. To learn more, visit http://www.McDivittLawFirm.com and http://www.McDivittMakesADifference.com.
###