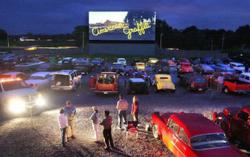 Movies at their best - under the stars
Stephens City, Virginia (PRWEB) June 05, 2013
On June 6, 2013 drive-in theatres nationwide will be celebrating the 80th anniversary of the opening of the first drive-in theatre in Camden, NJ. On that day in 1933, Richard Hollingshead, an auto parts salesman, opened the first theatre and ushered in a new way to watch movies "under the stars". Hollingshead's concept caught on fast and by the mid-60's there were close to 5,000 drive-ins open world-wide.
To celebrate the 80th anniversary of drive-in theatres, and the 57th anniversary of The Family drive-in—the theatre will be hosting an 80th anniversary event on Saturday, June 8, 2013 which will feature; 1) a classic car show from 12 noon – 3:30 PM, 2) live music, 3) family activities including bounce houses, games and activities, 4) burgers and hot dogs on the grill, 5) 50/50 drawings, a Chinese auction and more.
Activities will start at noon and will end when movies begin for the evening. Registration for classic cars will begin at 9 AM. Entry fees are $15 (which includes driver & all guests riding in the classic vehicle). Spectator fees and admission to the day's events will be $3 with children under 12 free. Movie admission will be separate and will be: $8 for adults and $4 for children (ages 3-11). All proceeds of the day's event will go towards the theatre's digital fund –which will help the theatre convert from 35MM to digital format in 2013. Without conversion, the theatre would not be able to obtain new films and would be forced to close. Conversion costs for the theatre is $140,000.
Voted by Go Blue Ridge Travel 'a must experience childhood experience', come out and celebrate one of America's favorite roadside attractions and re-live the 50's, 60's and 70's and experience how much fun it is to see a movie "under the stars" at one of America's remaining drive-in theatres!
The Family Drive-In Theatre, 5890 Valley Pike (US Rt 11) in Stephens City, Virginia is Virginia's largest drive-in, offering two screens, a playground for the children, classic car speakers on lighted poles, family affordable concessions and the latest Hollywood films for their patrons.
Today, 366 drive-in theatres remain on America's roadsides, still ushering in family fun, a chance to see the latest Hollywood blockbuster on the largest movie screens available, and offering magical memories that will last a life time.
About GoBlueRidgeTravel.com
Founded in 2011, GoBlueRidgeTravel.com (GoBRT), a division of Encore Event Partners is the only regional website showcasing the activities, events, and accommodations in the Blue Ridge Mountains and northern Shenandoah Valley. With a ten year relationship of marketing the region to brides for their wedding destinations, GoBRT is now reaching out to families branding the trademark 'GoBRT's Kids Bucket List' showcasing the experiences tots to teens should have prior to turning eighteen in the valley. Covering Virginia and West Virginia, Go Blue Ridge Travel's goal is to brand this 100 mile radius as a travel and wedding destination both nationally and internationally.
Contact: Nancy Craun Founder and President GoBlueRidgeTravel.com Phone: 540.533.1853 Email: info(at)GoBlueRidgeTravel(dot)com