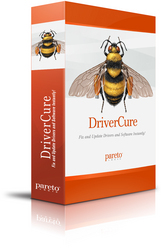 our goal was to save users' time in finding the right drivers for their specific computers.
Victoria, BC (PRWEB) March 20, 2009
ParetoLogic have recently released a whitepaper, ParetoLogic DriverCure: The Quick and Easy Way to Update Drivers and Software, which presents a complete overview of the popular program, featuring valuable background information on drivers and how DriverCure can help. Drivers exist for every piece of hardware, from digital camera drivers and scanner drivers to USB device drivers and Ethernet drivers. They provide a translation from the 'language' of the computer to the 'language' of the hardware, and back again. When driver problems occur the translation is interrupted, and error messages or malfunctions tend to ensue. DriverCure gives users the ability to update drivers, quickly and easily. With the whitepaper, says Gregory Amlin, ParetoLogic Vice-President of Product Management, "users can be better equipped to understand their PCs, and take steps to keep them running at their best."
DriverCure updates device drivers and software, and in doing so, repairs error messages, prevents hardware problems, and provides new features. The software scans the user's system and works in tandem with a database of drivers and software. The driver database expands constantly, with printer drivers, sound card drivers, video drivers, graphic drivers, monitor drivers, and everything else that needs a driver. The software database also grows quickly, and users can expect updates for many well-known brands such as Adobe, Java and Microsoft. Much of the process is automated, says Amlin, because "our goal was to save users' time in finding the right drivers for their specific computers."
A mixture of economic and ecological concerns has helped to improve DriverCure's reception. Much like RegCure, another best-selling ParetoLogic program, DriverCure plays a role in re-using, rather than buying new. Faced with malfunctioning or slow PCs, users are taking advantage of special software to repair them, rather than facing the significant financial cost of a new computer. Simply using DriverCure to update Drivers can revitalize a computer. Amlin explains that "an error message is not a death sentence for your PC or hardware."
Similarly, growing awareness of ecological issues has led many computer users to embrace green technology and lifestyles - of re-using rather than throwing away. The safe disposal of old PCs has become something of a hot issue - instead of seeing them in landfills, many are leaving their old PCs and hardware to charity, friends, and family. As people inherit various mixtures of hardware, the importance of drivers becomes obvious when error messages begin to appear. DriverCure allows users to enjoy their PC by preventing driver error messages, and ensuring that hardware works at its best.
About ParetoLogic:
In 2004 four brothers recognized that modern computer users need not rely on computer repair technicians to maintain their own PC's. Knowing that sophisticated technology married with a truly user-friendly interface would empower people to secure and optimize their own computers, the brothers researched the marketplace to define and develop the software products that would most benefit today's computer user.
ParetoLogic now employs 140 professionals to help them research, develop, and market software applications that will enable people to secure and enhance their computing experience. Available in eight languages in 192 countries around the world, ParetoLogic has established partnerships on a global scale to ensure that its products are available to all computer users, regardless of location, language, or computing experience.
Attention to the needs of the consumer coupled with a commitment to delivering exceptional software applications and resource-rich websites guarantee that our products will exceed your expectations.
# # #