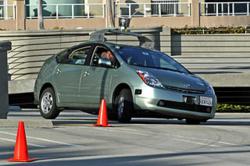 If this is done in a reliable and safe way, it could be a game changer for that population.
Boston, Massachusetts (PRWEB) October 28, 2012
According to the San Francisco Chronicle*, Nevada, Florida, and California have authorized testing of automated vehicles on their roads. Google is currently developing a number of automatic cars and major auto manufacturers are reported to be moving in the same direction.
As the competition to create vehicles that virtually erase auto accident accountability amongst drivers increases, proposals for legislation to test their safety and effectiveness has increased as well. David Strickland, head of the National Highway Traffic Safety Administration, has spoken at length with Google and automakers to pave the way for consumers to safely operate automated cars.
The kinds of automated cars Google and most automakers envision eventually bringing to market involve the driver ceding control of the vehicle to its computers - feet off the pedals and hands off the wheel - but still remaining ready to retake control if necessary, Strickland said.
Strickland has yet to divulge information pertaining to a timeline for government proposed safety standards required for automotive vehicles, but did express optimism as to the potential benefits of the finished project.
"If this is done in a reliable and safe way, it could be a game changer for that population," Strickland said.
Tom Kiley, senior partner at Kiley Law Group, has been assisting Massachusetts auto accident victims for decades. "Automatic vehicles theoretically provide a legitimate answer for one of the world's leading causes of death for the last 100+ years. If in-depth tests and regulations are enforced to ensure that these are indeed safe products, they have the potential to save millions of lives."
I became a personal injury attorney to assist victims of serious injury auto collisions and to do my part to help prevent negligent parties from contributing to future injuries. Automatic vehicles may eliminate driver negligence and place future accident fault solely on the shoulders of those who manufacture failed auto products," said Mr. Kiley.
Although excitement regarding the release of automatic vehicles has begun to gain traction, automated cars "are not around the corner," says Peter Mertens, Volvo's senior vice president of research and development.
For those of us anxiously awaiting the day where we can sleep on our way to work, the wait will be well worth it.
About Kiley Law Group, LLC
Kiley Law Group is a personal injury law firm based in Boston, Massachusetts. Tom Kiley, senior partner, has spent more than thirty years providing car accident victims with top-notch legal representation on a contingency fee basis.
For more information about Kiley Law Group, call 888-208-1695, or click here to visit their website.
Attribution*: sfgate.com/news/article/U-S-to-study-safety-of-driverless-cars-3976259.php