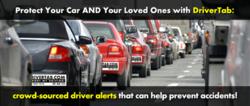 DRIVERTAB provides an effective solution for concerned parents of newly licensed teens –utilizing eyewitness feedback to strengthen good driving habits and to address questionable driving behaviors – reducing alarming statistics and senseless fatalities.
Atlanta, GA (PRWEB) December 18, 2012
Automobile accidents are the leading cause of death among American teens. DRIVERTAB, launching today, is committed to dramatically increasing teen driver safety. Inspired by the proverb, "it takes a village", and supported by how crowd-sourcing is being embraced by the nation, DRIVERTAB offers a timely solution: keep tabs on anyone driving your car via the power of crowd-sourced driver alerts.
The safety concept behind DRIVERTAB has an impressive track record and couldn't be more timely. According to a recent driving study completed by Children's Hospital of Philadelphia (CHOP), simply by requiring beginning drivers to use a state-issued red decal on their license plates, traffic regulators in New Jersey were able to prevent 1,624 teen crashes in the first year alone. Multiple- vehicle crashes decreased 8 percent, and crashes involving teen passengers decreased 9 percent. As a result, the state now has one of the lowest teen driver crash fatality rates.
Insurance industry data indicates that vehicles enrolled in long-standing truck driver reporting programs have reduced their accident rate by 50%. Inspired by that success, DRIVERTAB is translating the concept into powerful services and reporting systems for new teen and other non-professional drivers.
Ringing cell phones, text alerts, fast food wrappers, and animated passengers can easily disrupt driver focus, resulting in dangerous situations. DRIVERTAB easily and affordably offers vehicle owners the ability to receive anonymous eyewitness accounts of the driving behaviors of anyone [roommate, employee, teen, spouse, or senior parent] using their vehicle.
"I started DRIVERTAB to provide an effective solution for concerned parents of newly licensed teen drivers, says DRIVERTAB Founder, Rose Bryant. "Parents can utilize the eye-witness account of driving behaviors provided through DRIVERTAB, to strengthen their teen's good driving habits and to address questionable driving behaviors before they become fatal. Ultimately, I want DRIVERTAB to reduce the alarming statistics of senseless fatalities related to the newest and least experienced drivers that are sharing our roads."
HOW DRIVERTAB & TEEN DRIVERTAB WORKS:
The DRIVERTAB program is simple. The consumer selects from a convenient 3 Month or discounted 6 and 12 Month memberships. They are immediately sent a bumper or window sticker (member's choice) with a unique code. Once the sticker is affixed to the vehicle, the power of communities begins to work through crowd-sourced driver alerts. When an anonymous eyewitness report is received, DRIVERTAB alerts you via email notification.
TEEN DRIVERTAB provides a way for parents to receive and share feedback on their teen's driving – both positive and negative – from well intending fellow drivers. This allows parents, who can't always play co-pilot to their new driver, to stay in the loop and monitor their driving progress. The additional layer of accountability also serves as an effective aid against peer pressure on the road. As a result, TEEN DRIVERTAB helps keep everyone on the road safer.
In fifteen states, TEEN DRIVERTAB is also rolling out an 'extra care' pilot program providing a monthly driver license status update (active, suspended, etc.) as part of the monthly report that the parent / members will receive.
ABOUT DRIVERTAB
Based in Georgia, and with a team committed to excellence, DRIVERTAB offers a new way to empower parents and their teen drivers. DRIVERTAB.com | 855-533-7822