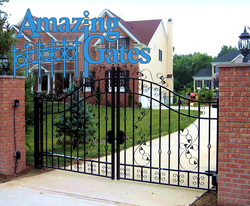 As a small business, we understand its been a tough couple years. We were happy to be able to help out another small business.
Bernalillo, NM (PRWEB) May 1, 2010
Amazing Gates of America is proud to announce their association with CONSTRUCTION INTERVENTION, an all-new Discovery Channel series. CONSTRUCTION INTERVENTION follows Charlie Frattini, New York Construction Extraordinaire, and his trusted team of contractors and designers as they find businesses who are in danger of failing due to botched, delayed, or impossible construction jobs and rescue them from their construction woes.
In the Tredici / Al Di La episode, Charlie and his crew help the Anfuso family which has suffered over the last three years with incompetent and untrustworthy contractors who have drained all of the their finances. Amazing Gates was involved in the construction process for the Al Di La Italian bistro renovation by donating over 100 feet of wrought iron fence and three ornamental garden gates.
"Adding some elegant touches, like wrought iron fence, to the exterior of a restaurant property can really help to bring in customers," said Amazing Gates Managing Partner, Ken Helfer. "And as a small business, we understand its been a tough couple of years. We were happy to be able to help out."
The CONSTRUCTION INTERVENTION Tredici / Al Di La episode premieres April 30, 2010. Please visit http://www.discovery.com for more details and check your local listing for show time in your area. Videos from past episodes can be watched at the Discovery.com website.
About Amazing Gates: Amazing Gates of America was the first company to ship DIY driveway gates direct to homeowners and business owners over 15 years ago. The company provides top quality, affordable wrought iron driveway gates, ornamental fence, garden gates and hardware. All gates and fence are hand forged from steel and protected through hot dip galvanizing and a baked-on industrial quality powder coat finish. Amazing Gates is the leading distributor of Polaris Gate Openers, the first all weather gate opener. Amazing Gates backs all driveway gates, garden gates and wrought iron fence w a lifetime guarantee. Visit http://www.amazinggates.com for more information.
# ##