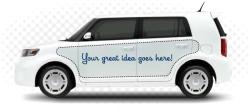 With our new contest, we really want to engage the student population and get them excited about safety
Redmond, Wash. (Vocus/PRWEB) November 22, 2010
SWERVE invites high school students in the state of Washington to submit design ideas for its first ever SWERVEMobiles competition. Not only would the winning design be used on the side of the company's student driver's cars, but the winner would also receive a $250 cash prize. The school where the student attends will also benefit from a $250 donation.
SWERVE Driving School is different from other Seattle driver's education institutions, in that its researched based curriculum has set it apart as a statistically superior alternative. The Department of Licensing measured over 70,000 students over the last five years, and SWERVE has consistently come out ahead.
"With our new contest, we really want to engage the student population and get them excited about safety," said Bruce Cleland, vice president of marketing at SWERVE. "We know there are some creative individuals out there, and we'd like to give them a chance to showcase their ideas."
The submission deadline for the contest is November 30 at midnight, giving students extra time over the Thanksgiving holiday to brainstorm ideas. After the deadline, the Seattle driver's ed school will then direct people to its website, where individuals can vote for their favorite designs.
"We want the community to get involved with this contest," said Cleland. "We're going to open the voting on December 1, and it will go all the way until December 16 when the winner will be selected and announced."
The winning design will be produced on January 10, 2011, when everyone can see the newly designed SWERVEMobiles on the streets of Washington. To learn more about the contest or to submit an entry, go to http://www.goswerve.com/driversed-design-contest.
About SWERVE
SWERVE Driving School's mission is to "Change the Way People Drive." Its goal is to inspire and educate, engage and motivate drivers to perform better behind the wheel. The company has developed a number of programs for new teen drivers that go beyond traditional driving lessons or driver's ed. Its ultimate goal is to create an enhanced driving school experience and challenge student drivers to be collision free for life. The business' innovative approach to driving lessons makes learning fun in a challenging way, and actually improves the rate at which drivers retain the information by incorporating leading mental performance exercises to ensure students are more focused and aware of their driving environment.
# # #