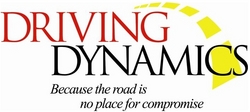 Exposure to driving-related losses is significant for business enterprises both in terms of loss costs and workers' downtime
St. John's, NL (PRWEB) July 29, 2010
ClearRisk Inc. a leading online provider of risk management solutions to insurance brokers and medium-sized organizations announces its partnership with DRIVING DYNAMICS, a leader in the field of fleet risk management and advanced performance, driver safety training.
Considered a subject matter expert as well as a highly regarded service provider of key risk and safety services, DRIVING DYNAMICS employs a multi-discipline approach to help fleets lower their crash rates. Whether it's safety policy consulting, loss analysis, advanced performance driver safety training or driver risk assessment tools, DRIVING DYNAMICS delivers a full range of meaningful services to help fleets improve their safety record, in some cases as much as a 45% reduction in crashes.
Chris Gardner, Vice President of Marketing for ClearRisk, says, "Exposure to driving-related losses is significant for business enterprises both in terms of loss costs and workers' downtime. This appointment of DRIVING DYNAMICS is a major step by ClearRisk to provide its clients with the opportunity to aggressively manage risk associated with a business driver population."
About ClearRisk, Inc.
ClearRisk Inc. is an online provider of risk management solutions. Based out of St. John's, NL, ClearRisk has representatives and partners throughout Canada, the United States and Europe (UK). ClearRisk's solutions are built for insurance brokers, medium-sized organizations, and professional risk managers that are looking for an easy and affordable way to manage risk.
About DRIVING DYNAMICS, Inc.
Founded in 1987 and headquartered in Newark, Delaware, DRIVING DYNAMICS is North America's preferred partner in the field of Advanced Performance, Driver Safety Training and Fleet Risk Management. Its unique and highly effective approach to behind-the-wheel driver education; web-based learning; and driver risk management has helped many major companies achieve very significant reductions in their crash rates. For more information visit http://www.drivingdynamics.com
# # #