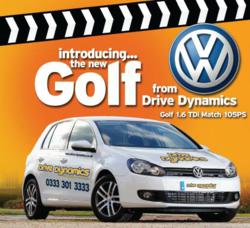 The addition of the new model 5 door golf to our company fleet, is a welcome and exciting move for Drive Dynamics. It is aimed to reward premiere instructors with a premium vehicle, which reflects their status in the business.
United Kingdom (PRWEB UK) 2 November 2012
The national driving school company, who are a division of Kan Kan Ltd, have been in existence since 2005, and set themselves up in business without borrowing money to do so. This good housekeeping ethic has worked well for them, and they work hard with their instructors to pass their business acumen and philosophies on to them.
The family run company have over 350 driving instructors at the moment throughout the UK, and have plans to increase this to 500 instructors within the next year, which will easily be achievable with the support network they have on offer for new recruits to the driving school franchise business. Being a dedicated, family run business, certainly gives them a uniqueness over other national driving schools, which carries down through the chain of employees, and to their franchise instructors.
The VW Golf 1.6 TDI Match 105PS would be an asset to any company with it's low car tax and good fuel consumption, especially in congested areas, which would make it an ideal car for business use in towns and cities, so it is no surprise that Drive Dynamics have chosen this model.
They are currently advertising the 5 door model on their web site, on a first come first served basis, with the first 50 applicants to their Premier Franchise Instructor Package walking away with the VW Golf as their car to use when teaching the guaranteed 50 pupils minimum, gained without using leads or referrals, as provided by the company. This strategy certainly gives the new instructors a great chance to build up their business and have the competitive edge over others in a very ambitious market.
It is easy to see why they are the fifth largest national driving school franchise in the UK, with the £2000 of In House Training Courses that the company provide for their instructors to progress through their CPD training, and the dynamic marketing strategies that they use, ensuring that they achieve their goals, and have continued business success for years to come.
For information on instructor franchises:
Contact Drive Dynamics
Telephone: 0333 301 3333 or 0800 10 888 88
Registered Office: Drive Dynamics
11-13 Kings Street
Drighlington
Bradford
BD11 1AA
Business Email ID: info (at) drive-dynamics (dot) co (dot) uk
Website Address: http://www.drive-dynamics.co.uk/