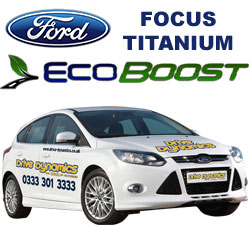 Keep The POWER - Save On Fuel & Save The Planet! WIN WIN!
United Kingdom (PRWEB UK) 28 December 2012
With Global Warming on the increase, more drivers are becoming morally obligated to help by buying greener cars that produce fewer CO2 emissions. SMMT economists have actually worked out, that by using greener cars, car manufacturers have already saved over 5 million tons of CO2 emissions in the last 10 years, and technology has improved even further recently.
The Ford Focus Titanium EcoBoost 1.0 car has a higher performance, lower carbon emissions and lower costs, which Ford state their engineers have developed in their new EcoBoost engine, that is class-leading for fuel-efficiency and emissions. The turbo-charged, direct injection and ultra efficient 1.0 litre EcoBoost engine will be available in the whole of the Ford Focus range of cars at the start of the new year in the UK, and the performance will compete well with other 1.6 litre engines, by improving the fuel efficiency and having lower CO2 emissions.
The 5 door model has 125 PS and produces a combined 56.5mpg with CO2 emissions of only 114g/km and the 1000 PS model combines with 58.9mpg and CO2 emissions of 109g/km, which you can see will make a fantastic difference when driving.
It is because of this, that Drive Dynamics have added this car to their fleet, as they firmly believe in supporting the control of our environment by using greener cars, and by using them for their Premiere Driving Instructor Franchises, it means that the message is passed on down to the pupils who learn to drive in cars like these.
Director, Alistair Midgley-McDonald said " The benefits of us using this car will be improved fuel consumption and savings on fuel, with it being 10p per litre cheaper than diesel, and the added bonus of the zero vehicle excise duty in the first year, then £20 and £30 after, will save our instructors money, whilst helping to protect the environment at the same time. This was an opportunity we could not afford to miss, and want to help our pupils become more environmentally friendly too!"
It is down to the driving school company having foresight and innovative ideas like this, that has made them officially, the most liked national driving school, on the social media website, Facebook, with over 9000 likes! Using this car will also mean that their Premiere franchise driving instructors will be able to teach pupils driving skills and the importance of using green cars during lessons, whilst at the same time owning a powerful car that is fuel and cost efficient being 56.5mpg, so everyone will gain. It's a Win Win situation for all!
Drive Dynamics Driving School Franchise
Registered Office:
11-13 Kings Street
Drighlington
Bradford
BD11 1AA
Business Email ID:
Info(at)drive-dynamics(dot)co(dot)uk
Valid Phone Numbers:
03333 01 3333