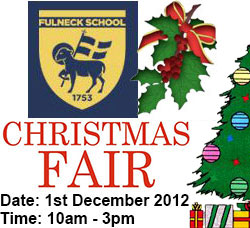 Beverley Midgley-McDonald Director of Kan Kan Ltd says: We are always keen to help the community. Being a family run company, we understand and appreciate the importance of these local school events.
Leeds, United Kingdom (PRWEB UK) 26 November 2012
They are offering a prize of 10 full driving lessons to the person who correctly guesses the amount of balloons squashed into one of their fleet of cars. It will be there on the day for you to walk around, pay £1, and make your guess, and in this economic climate, it will make a fantastic Christmas present for a prospective learner driver if you guess correctly, and they have driving instructors available in the area to book them straight on to a course!
Fulneck School, is a mainstream Independent School for boys and girls aged 3 to 19 years in Pudsey, West Yorkshire. Originally founded in 1753 by the Moravian Church, the school is set in beautiful surroundings which are perfect for the Christmas fair, which should attract hundreds of visitors to the fund raising event, 30% of which monies raised are being donated to the LGI wing of Leeds Hospital!
Drive Dynamics and Kan Kan could not wait to be a part of the event that is so important to their local community, and has been planned by the parents and children of Fulneck School. Attractions include Santas' Grotto, a Christmas Market of stalls including, Mulled Wine to warm you up on a cold day, Bacon Butties and home-baked cakes to satisfy your appetite, and many gift stalls of local arts and crafts and antique jewellery to help the burden of choosing those awkward relations the perfect present! You don't have to worry about the stress of wrapping them or keeping them secretly hidden as there is a Wrapping service there too! With a teddy bear stall and a whole room of activities for the kids to enjoy, Mums can sneak away to be pampered at the nail bar provided. They really have thought of everything!
So get yourself along to Fulneck School in Pudsey on Saturday December 1st, between the hours of 10am and 3pm, and enjoy yourself. Take plenty of money, as you will find an abundance of things to spend it on, and it's only £1 a go to guess the amount of balloons in the Drive Dynamics/Kan Kan car which will be clearly visible, and well worth the money if you win the prize of 10 driving lessons! And don't forget the proceeds are going to Fulneck School and 30% to the LGI hospital wing at Leeds Hospital, so spend, spend, spend!!
For information on the Christmas fair or driving lessons in Leeds:
Contact Drive Dynamics Driving School Leeds
Telephone: 03333 01 3333
Registered Office: Drive Dynamics
11-13 Kings Street
Drighlington
Bradford
BD11 1AA
Business Email ID: info (at) drive-dynamics (dot) co (dot) uk
Website Address: http://www.drive-dynamics.co.uk/
or
Fulneck School Leeds
Fulneck
Pudsey
Leeds
LS28 8DS
T: +44 (0)113 257 0235
F: +44 (0)113 255 7316
W: http://www.fulneckschool.co.uk/