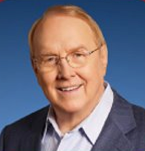 Look for Dr. Dobson's Family Talk on your local Christian radio station, on the world wide web at "drjamesdobson.org,"
Colorado Springs, CO (PRWEB) March 22, 2012
Well-known psychologist, best-selling author, radio broadcaster, and family ministry founder, Dr. James Dobson will appear as keynote speaker at two special March events in Southern California.
Dr. Dobson, host of the radio broadcast Dr. James Dobson's Family Talk and president of the new Family Talk ministry, continues to provide advice, counsel, and Christian leadership to millions of families world-wide as he has for over three decades. At this Sunday's services in La Mesa (San Diego), Dr. Dobson will be joined by his wife, Shirley, who is Chairman of the National Day of Prayer, their son, Ryan, and daughter, Danae, at the large and historic Skyline Wesleyan Church for a special celebration and dedication. The Dobsons and their friend Jim Garlow, Skyline's pastor and nationally-known author and communicator, will be leading the congregation and visitors in dedicating a new building, featuring a "Heritage Walk" and "Our Fathers' House of Prayer."
Dr. Dobson will be a featured speaker at the 9:00 and 11:00 a.m. services, and looks forward to this dedication ceremony at the Skyline fellowship.
Ryan Dobson, author and co-host of the Family Talk and Grounded radio programs, will be also speaking to Skyline middle school students at 11:00 a.m. and young adults and high schoolers at 6:00 p.m. on Sunday.
This event in the San Diego area on March 25, will be open to the public.
At an unrelated special event in Los Angeles on March 29, Dr. Dobson will be a keynote speaker at the 2012 annual conference for Heartbeat International, world-renowned pro-life support and adoption organization.
Heartbeat International currently serves over 1,100 affiliated pregnancy help centers, maternity homes, and non-profit adoption agencies in all 50 states and in 47 countries.
Dr. Dobson, for four decades a pro-life leader with a heart of compassion and concern for the unborn and their mothers, will deliver his message at the closing banquet and conference meeting at 6:00 p.m. Thursday, at the Los Angeles Airport Marriott Hotel (near LAX). Mrs. Shirley Dobson will join with him at the Heartbeat gathering for this time of fellowship and challenge.
Dr. Dobson's profound impact on the family, both in the evangelical community and in the culture at large, has been remarkable. He was an advisor to three presidents. His radio broadcasts were heard daily by 220 million people in 150 countries. Dr. Dobson was a professor of pediatrics at the University of Souther California School of Medicine for 14 years, and also served on the attending staff of Children's Hospital of Los Angeles for 17 years. Already an established author of books on the family, he then founded Focus on the Family in 1977 and served there for 33 years.
In early 2010 Dr. Dobson resigned from Focus on the Family, yet he wasn't ready to retire when he left Focus. He knew that God had given him a mission and a message many years ago, and believed that the task was not complete. Dr. Dobson felt led to form a new ministry to continue helping families, and in March 2010 he started Family Talk. The centerpiece of this outreach is a 30-minute daily radio broadcast, Dr. James Dobson's Family Talk, strategically designed to reach the younger generation with the Judeo-Christian worldview of the family for many years to come. The program is heard five days per week on 700 stations around the U.S. In addition, Dr. Dobson writes a monthly newsletter to communicate advice to families, and the Family Talk team makes use of the world wide web, a call center, and social media to offer help and encouragement.
As active as ever in communicating to the needs of the family, Dr. Dobson remains passionate in his concern for our nation. He is energized by the creation of new programs every day and the many exciting opportunities to help families. Look for Dr. Dobson's Family Talk on your local Christian radio station, on the world wide web at "drjamesdobson.org," and on Facebook or Twitter.