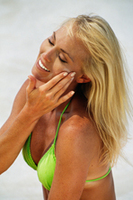 Patients choose Dr. Keith Berman because he is board certified and performs cosmetic procedures in his own a state-of-the-art ambulatory surgery center.
Staten Island, NY (PRWEB) June 5, 2010
The summer months are great time for relaxation and renewal. Most people take advantage of the longer days and warm weather to enjoy extra time with family and friends. While enjoying the hot, lazy days of summer, keep in mind that different beauty rules apply. Dr. Keith Berman, award-winning, board certified plastic surgeon in New York City and Staten Island (NY), offers these smart and simple tips to keep you looking as good as you feel:
Protect Yourself from the Sun - The sun not only causes damage to your skin it can also increase the effects of aging. If you are prone to sunburn, be sure to wear sunscreen daily and consider wearing a wide-brimmed hat. If you typically tan your skin during the summer months, avoid using tanning oils without an SPF. Contrary to popular belief, SPF does not prevent tanning. Even if you apply a tanning lotion with an SPF, you will still get the results of a tan. Dr. Keith Berman warns that most people experience the effects of sunbathing as they get older in the form of dark spots, freckles and facial wrinkles.
Look for sunscreens that protect against both UVA and UVB rays. The higher the SPF, the better since perspiration waters down the protection. Waterproof sunscreens are important for water activities. Be sure to check your skin throughout the day to avoid excessive sunburn. Remember, suntans may look nice, but solar exposure leads to skin damage. Dr. Keith Berman warns sunbathers to be vigilant of their skin, "If you notice any new skin lesions or a change in an existing skin lesion or mole have the area checked out by a medical specialist."
Plan Ahead - It's never too late to look your best with the assistance of a lunch time cosmetic procedure such as a cosmetic filler to remove "marionette" lines around your mouth; injectables to reduce wrinkles on your forehead or an invasive surgery such as breast augmentation or a tummy tuck to remove an unpleasant "pooch" which requires significant healing and recovery time. If you have a big vacation or special event such as a wedding, you must plan accordingly. Most plastic surgery procedures take a few weeks for swelling and bruising to resolve. Dr. Keith Berman recommends having your procedures performed early so you can have more time on the beach or having more confidence at your special event.
Let a Board Certified Plastic Surgeon Help You Reach Your Beauty Goals
Dr. Keith Berman, winner of the Patient's Choice Award, is board certified by the American Board of Plastic Surgeons and has nearly 25 years of medical experience. Patients who choose Dr. Berman save time and money receiving their procedure at his state-of-the-art ambulatory surgery center accredited by the American Association of Ambulatory Surgery Centers. During his 12 years in private practice, he has performed thousands of cosmetic surgical procedures including over 2000 breast augmentations.
For more information about Dr. Keith Berman and cosmetic procedures such as breast augmentation, tummy tuck, injectables, fillers, liposuction, chemical peels and more visit: http://www.drkberman.com/aboutdrberman.htm
Dr. Keith Berman's Philosophy:
http://www.drkberman.com/drkeithbermanphilosophy.htm
Testimonials from Dr. Keith Berman's Patients:
http://www.drkberman.com/drkeithbermantestimonials.htm
Watch Dr. Keith Berman Discuss Liposuction Techniques on YouTube:
http://www.youtube.com/watch?v=xFkbDRj3yZk
Watch Dr. Keith Berman Discuss Breast Augmentation on YouTube:
http://www.youtube.com/watch?v=TRqyIn6W3ik
###