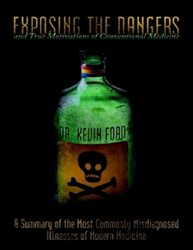 GARDENDALE, Ala. (PRWEB) August 12, 2015
The use of pesticides and other chemicals is coming back to harm consumers and the environment.
In 2014, the Oregon Department of Agriculture's Pesticide Program investigated 505 possible pesticide violations and found 34 violations, according to a Feb. 12, 2015 article posted on Statesman Journal. One of those violators is responsible for a massive bee die-off, and another made residents of a community sick after spraying its chemicals.
Dr. Kevin Ford knows the dangers of these chemicals and how they can affect one's health. In his new book, "Exposing the Dangers and True Motivations of Conventional Medicine: A Summary of the Most Commonly Misdiagnosed Illnesses of Modern Medicine" (published by Lulu), Ford discusses environmental toxins and their effects on modern medicine.
Ford believes conventional doctors routinely deny the effects of pesticides, herbicides and chemically enhanced food. He recounts his own struggles with toxin poisoning and illness to further illustrate his frustration with conventional doctors.
Additionally, Ford's book offers possible solutions for readers looking to live longer. He discusses the benefits of natural supplements, detoxification therapies, exercise, healthy foods and chelation treatments for heavy metal poisoning as part of a multi modal detoxification program to regain health. He hopes to empower readers as they take back control of their health.
"Natural treatments are effective and many can be started on your own," Ford says. "There are anti-aging and other natural health professionals who can specifically identify various, heavy metals exposure, other toxins, nutritional deficiencies and hormone deficiencies and treat these."
"Exposing the Dangers and True Motivations of Conventional Medicine"
By Dr. Kevin Ford
Softcover | 6.13 x 9.21 in | 218 pages | ISBN 9781483425511
E-Book | 218 pages | ISBN 9781483425528
About the Author
Dr. Kevin Ford is a specialist in anti-aging, regenerative and functional medicine with an advanced fellowship certification from the American Academy of Anti-Aging Medicine. He is devoted to achieving the ultimate anti-aging plan.
Lulu empowers people of all ages to explore and express their interests, passions and expertise through books, photography and art. Since introducing self-publishing in 2002, Lulu has empowered creators in more than 225 countries and territories to produce nearly two million publications. Lulu Jr. allows children to become published authors, encouraging creativity, strengthening literacy and building self-esteem. Picture.com offers professional photography of collegiate and professional sports, memorable and historic events, fine art and home décor. For more information, please visit lulu.com.