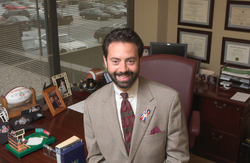 "At UOC, our goal is to not only treat, but to educate parents, children and their coaches about the ways to help prevent injuries as well as understand the scope of those injuries for future play. Endorsing the STOP Sports Injuries Campaign will help t
Hackensack, NJ (PRWEB) June 3, 2010
Dr. Raphael S. F. Longobardi of University Orthopaedic Center, PA, has joined forces with the American Orthopaedic Society of Sports Medicine (AOSSM) and other healthcare organizations to help launch the STOP (Sports Trauma and Overuse Prevention) Sports Injuries Campaign.
According to the Centers for Disease Control and Prevention (CDC), high school athletes alone account for an estimated two million injuries, 500,000 doctor visits and 30,000 hospitalizations each year due to sports. More than half of all sports injuries in children are preventable.
The STOP Sports Injuries Campaign educates athletes, parents, trainers, coaches and healthcare providers alike on the rapid increase in youth sports injuries, steps to reverse the trend and ways to keep young athletes healthy. STOP Sports Injuries teaches proper prevention techniques and the importance of open communication between everyone involved in a young athlete's life. It also encourages those affected to sign The Pledge. A link to the pledge can be found at http://www.universityorthopaedic.com or at http://www.stopsportsinjuries.org
"As a father of young athletes, this pledge and campaign means a great deal to not only my children but to the many others who are involved in so many more activities nowadays, going from one surface of play to another. The prevalence of injuries tend to be more often and earlier." notes Dr. Longobardi, "At UOC, our goal is to not only treat, but to educate parents, children and their coaches about the ways to help prevent injuries as well as understand the scope of those injuries for future play. Endorsing the STOP Sports Injuries Campaign will help to get these important points across and make people aware that many sports injuries can be prevented if proper precautions are taken."
To learn more about the STOP Sports Injuries Campaign or contact Dr. Longobardi for an upcoming speaking engagement or event, please call Debbie Pirsos at 201-343-1717. You may also visit us at http://www.universityorthopaedic.com and complete our Contact Us form.
Dr. Longobardi is a graduate of New York University School of Medicine and member of the American Academy of Orthopaedic Surgeons and numerous other medical associations. He is affiliated with Hackensack Medical Center, Holy Name Medical Center and Metropolitan Surgery Center. Dr. Longobardi has also served as a Consultant/Team Physician to the Florida Marlins Baseball Team, the U.S. Tennis Association, the NY/NJ MetroStars Soccer Team, the New York Islanders Hockey Team, and other professional and collegiate athletes and sports teams. To contact Dr. Longobardi for a speaking engagement, for additional information or to schedule an appointment, please call University Orthopaedic Center at (201) 343-1717, 433 Hackensack Avenue, 2nd floor, Hackensack, NJ or visit http://www.universityorthopaedic.com.
###