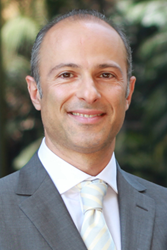 "One of the best things that women can do to combat incontinence is to prepare early," Dr. Michel said
Beverly Hills, CA (PRWEB) February 27, 2017
It's no secret that aging causes people to lose muscle mass and overall body strength, which often leads to a host of health issues, including urinary incontinence. However, results published in late 2016 in the Journal of the American Geriatrics Society discovered that good overall muscle strength in older women, particularly in the abdominal and pelvic region, could reduce the chances of having incontinence. Unfortunately, pelvic muscles often weaken in many women who have had at least one child or who are well over their optimal weight.
"If the pelvic floor muscles are weakened, this makes it difficult for older women to control urine leaks because they don't have the proper grip strength to contract the necessary muscles," says Dr. Michel, founder of the Institute for Incontinence and Vaginal Reconstruction in LA. "As a result, women in their 60s, 70s, and older experience stress urinary incontinence when they suddenly cough, laugh, sneeze, or even exercise. As you can imagine, this is embarrassing and causes a lot of anxiety, especially when in public."
The three-year study tested two groups of women in their 70s: one group experiencing stress urinary incontinence (SUI) at least once a month and another group experiencing urge incontinence (UI) at least once monthly. By the end of the study, women who experienced a 5 percent increase or more in muscle mass saw their chances of SUI reduced by over 80 percent. Furthermore, women with a 5 percent or more loss of fat mass experienced a nearly 50 percent lower risk of SUI.
"More research is needed to further verify these results, but it makes sense that better muscle mass and grip strength lead to reduced incontinence," Dr. Michel said. "Also, as these results show, the improvement only seems to be found in decreasing SUI. For women with urinary incontinence, also known as an overactive bladder because of the seemingly constant urge to urinate, increased muscle mass or decreased body fat didn't seem to offer improvement."
Increased overall muscle mass can help increase the strength of the pelvic floor muscles, which leads to better grip strength and better urinary control against the pressure caused by coughing or sneezing. A variety of safe, effective treatments are also available, especially for women who've lost weight and gained overall muscle mass, yet still experience uncomfortable moments, especially in social settings. For more information, including diagnostic and treatment options, visit http://IncontinenceDr.com/Diagnosis-and-Treatment/.
"One of the best things that women can do to combat incontinence is to prepare early," Dr. Michel said. "What I suggest is that women in their 30s and 40s, even their 50s, should start now to normalize their fat mass and weight. This can include eating right and exercising regularly. By doing so, when you're in your 60s and older, you'll have reduced your chances of unwanted leakage and have better grip strength that controls your bladder. At the Institute for Incontinence and Vaginal Reconstruction, we believe that preventative measures are extremely useful in the long run and can reduce the chances of having to consider incontinence treatment options later on."
Kia Michel M.D. earned his medical degree at the University of Washington School of Medicine and completed his residency at UCLA. He has also been recognized as a National Pfizer Scholar. As one of the founding members of the reputable Comprehensive Urology Medical Group, located in the Cedars-Sinai Medical Towers in Los Angeles, California, Dr. Michel treats a host of urological diseases. One of the few urologists who is both an acclaimed vaginal reconstructive and minimally invasive surgeon, Dr. Michel is a compassionate doctor who has dedicated his career to providing state-of-the-art care for his patients with a warm, nurturing touch.
The Institute for Incontinence and Vaginal Reconstruction is a renowned urological practice in Los Angeles that provides state of the art urological care in a personalized and compassionate environment. The physicians at the Institute for Incontinence and Vaginal Reconstruction are board-certified urologists with specialty training in a number of different aspects of urology and provide tailored care for their patients with outstanding results.
Call them today at (310) 307-3552 or visit their website: http://IncontinenceDr.com/
Institute for Incontinence and Vaginal Reconstruction
8631 W 3rd St #715e
Los Angeles, CA 90048
(310) 307-3552
CUInquiry(at)gmail(dot)com