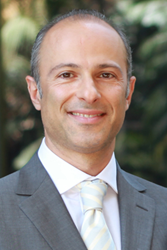 "Men over the age of 50 should get regular prostate screenings to ensure early enough detection for survival," Dr. Michel said
Los Angeles, CA (PRWEB) March 27, 2017
According to the American Cancer Society, the average 15-year survival rate for men with prostate cancer, including all stages, is more than 95%. Once the cancer spreads to other organs, bones, or lymph nodes, however, the 5-year survival rate drops drastically to less than 30%. To find out how to avoid this latter group, tune in to Lifestyle Magazine on April 9, 2017, to watch Dr. Kia Michel of Comprehensive Urology discuss the prospects of "Surviving Prostate Cancer."
"I was excited that the producers wanted to film a segment on something I've dedicated my career to," said Dr. Michel, "and, naturally, I was honored that they wanted me to take part. 'Surviving Prostate Cancer' is an appropriate title because that's the goal of every man who has the disease. Fortunately, with early detection and the right treatment plan, it's not a pie-in-the-sky goal."
Prostate cancer normally grows slowly, therefore, detecting the cancerous cells in the early stages means an almost certain chance of survival. Common methods of detection include the traditional (an ultrasound-guided biopsy or MRI) and the cutting-edge latest (MRI fusion, which combines MRI with ultrasound). Once the cancer is detected and the stage determined, how to treat and survive the disease become the next goals.
"Depending on the stage of the cancer, a variety of treatments is available," Dr. Michel said. "Traditional options include surgery or radiation therapy, both of which can be especially effective when cancer has infected the majority of the gland. For more precise treatment, high intensity focused ultrasound, or HIFU, is a very effective and very popular procedure, especially since it is quick and much less invasive."
In fact, when choosing a treatment, in addition to survival, men mainly want to know about the number and severity of side effects, especially the common trio of incontinence, leftover cancer cells, and the impact on sexual performance. To learn more about prostate cancer risk factors, detection methods, and treatment options, visit http://ProstateCancerDr.com/MRI-Fusion-Biopsies/.
"Men over the age of 50 should get regular screenings to ensure early enough detection for survival," Dr. Michel said. "One of my responsibilities as a urologist is to make men aware that surviving prostate cancer is not just possible – it's almost expected. So, if you notice symptoms of prostate cancer – such as reduced sexual potency, unexplained swelling or pain in your legs or pelvic region, or urinary changes like incontinence or a weak flow, schedule an appointment with your favorite urologist before it's too late. It may be nothing – or it could be everything."
Kia Michel M.D. earned his medical degree at the University of Washington School of Medicine and completed his residency at UCLA. He has also been recognized as a National Pfizer Scholar. As one of the founding members of the reputable Comprehensive Urology Medical Group, located in the Cedars-Sinai Medical Towers in Los Angeles, California, Dr. Michel treats a host of urologic diseases. One of the few urologists who is both an acclaimed vaginal reconstructive and minimally invasive surgeon, Dr. Michel is a compassionate doctor who has dedicated his career to providing state-of-the-art care for his patients with a warm, nurturing touch.
Comprehensive Urology is a renowned urological practice in Los Angeles that provides state of the art urological care in a personalized and compassionate environment. The physicians at Comprehensive Urology are board-certified urologists with specialty training in a number of different aspects of urology and provide tailored care for their patients with outstanding results.
Call them today at (310) 341-2557 or visit their website: http://ProstateCancerDr.com/
Prostate Cancer Institute of Los Angeles
8631 W 3rd St #715e
Los Angeles, CA 90048
(310) 341-2557
CUInquiry(at)gmail(dot)com