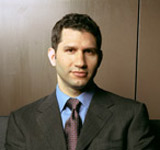 Leading New York facial plastic surgeon Dr. Philip Miller is achieving excellent results in nasal hump removal with MicroRhinoplasty
New York, NY (PRWEB) May 27, 2013
Leading New York facial plastic surgeon Dr. Philip Miller is achieving excellent results in nasal hump removal with MicroRhinoplasty, a new, less invasive alternative to traditional osteotomy.
The removal of a hump or bump on the bridge of the nose is one of the most common requests in rhinoplasty. This traditionally required the nasal bones to be fractured using a technique known as osteotomy. Osteotomy is performed with general anesthesia and typically involves increased bruising and swelling and longer recovery times. It is also associated with multiple complications.
MicroRhinoplasty is an exciting new technique in nasal hump removal which offers a less invasive alternative to traditional osteotome in appropriate patients. With MicroRhinoplasty, there is no need to fracture the nasal bones. Instead, an air-powered microsaw is used to precisely reduce the bony hump layer by layer until the desired result is achieved. This simple, quick procedure can be performed in the office setting with local anesthesia in as little as five minutes. Patients experience little to no pain, less swelling and bruising, and shorter recovery times. Dr. Miller is excited to be able to offer this new technique for nasal hump reduction to his patients at his Manhattan plastic surgery practice. Watch a video of Dr. Miller performing it here.
Dr. Miller is a leading facial plastic surgeon and renowned rhinoplasty expert. He has over 20 years of experience in facial plastic surgery and has consistently been voted among the Best Doctors in America for the past six years, as well as a Top Doctor in New York. Dr. Miller is double board certified in Facial Plastic & Reconstructive Surgery and Otolaryngology / Head and Neck Surgery, and serves as Assistant Professor in the Department of Otolaryngology at New York University School of Medicine.
At his Manhattan plastic surgery practice, Dr. Miller performs a comprehensive range of facial plastic surgery procedures including rhinoplasty, facelift, necklift, browlift, eyelid surgery, chin augmentation, cheek augmentation, buccal fat removal, fat transfer, otoplasty, reconstructive surgery, and non-invasive facial rejuvenation procedures like Botox and injectable fillers. To contact Dr. Miller call (212) 750-7100 or visit him online at http://www.drphilipmiller.com/.