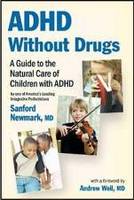 I strongly recommend this book to all parents of children with ADHD and the teachers, doctors and other professionals who work with them…We can…help these children fulfill their true potential. Dr. Newmark tells us just how to do that --Andrew Weil, MD
Tucson, AZ (PRWEB) May 19, 2010
A new book on ADHD by Dr. Sanford Newmark, one of America's leading integrative pediatricians, is being hailed by preeminent doctors, psychiatrists and researchers as a must-read for professionals and parents alike who want answers to the rise of ADHD based on the best research available and a treatment plan proven to help children with ADHD or ADHD symptoms.
ADHD WIthout Drugs: A Guide to the Natural Treatment of Children with ADHD includes a foreword by Dr. Andrew Weil and is distinguished by its integrative approach, which draws from the wisdom of both conventional and alternative medicine, focusing on the initial use of natural treatments with the least chance of harmful side effects. Parents can implement many of the strategies on their own.
The incidence of American children taking medication for ADHD has risen 1,600 percent over the past 30 years, with up to 10 percent of children now being diagnosed with this disease. Dr. Newmark's book explains the array of causes for this increase based on the most current research. He outlines effective treatment strategies used over the past decade that have significantly helped children with ADHD, frequently without medication.
From Nurtured Heart Publications and available in bookstores everywhere, ADHD Without Drugs also addresses: accurate diagnosis of ADHD and the causes of misdiagnoses, the neurobiology of ADHD, the surprising implications of nutrition, food sensitivities and toxins, such as pesticides, as well as practical guidelines to feed, supplement, parent, educate and appreciate children with ADHD. The final chapter examines the most common ADHD medications and their risks and benefits. A bibliography of studies cited, plus additional resources and an eight-step treatment summary for parents complete the 237-page book.
About the Author
Sanford Newmark, MD, is an integrative pediatrician with 23 years of experience. He is the first graduate of Dr. Andrew Weil's Program in Integrative Medicine at the University of Arizona to practice general pediatrics, and is now part of the program faculty. Dr. Newmark is currently in private practice at Whole Child Wellness near San Francisco. He is a frequent presenter on the topics of pediatric integrative medicine, autism and ADHD.
Advance Reviews
"I strongly recommend Dr. Newmark's book to all parents, relatives, and friends of children with ADHD, as well as the teachers, doctors, and other professionals who work with them. Before going to the pharmacy, we can use an integrative approach to help these children succeed and fulfill their true potential. Dr. Newmark tells us just how to do that." — from the book's foreword by Dr. Andrew Weil, Harvard-trained physician, integrative medicine pioneer, best-selling author, and one of Time magazine's 2005 World's 100 Most Influential People.
"Dr. Newmark has finally crafted the book that I have long been wishing for: a wonderful self-help guide for parents looking for a thoughtful and science-based natural approach to treating ADHD. This integrative/holistic style reduces or eliminates the need for stimulant medications and offers sound advice about diet, sleep, nutrients, herbs and other key modalities. The book radiates a balanced wisdom that comes so rarely from practicing physicians today".— Scott Shannon, MD Child and Adolescent Psychiatrist; author of Please Don't Label My Child; editor of Handbook of Complementary and Alternative Therapies in Mental Health.
"If I had one book to read about ADHD, this is it. It is well-written, practical and filled with the uncommonly good common sense of an experienced and compassionate clinician with fair-minded and rigorous reviews of the state of the science." — Kathi Kemper, MD, MPH, Director, Center for Integrative Medicine; Professor of Pediatrics, Social Science Health Policy, and Family and Community Medicine, Wake Forest University Baptist Medical Center
###