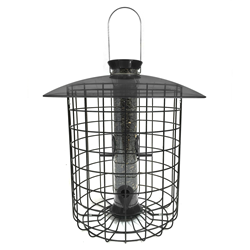 tree squirrels are voracious in fall because they are hoping "to fatten up during an autumn of gluttony
Plainfield, CT (PRWEB) November 17, 2015
Squirrels and bully birds can put a strain on backyard bird feeding. Daily feeder visits from these pests can be costly and frustrating when they consume the feed meant for the birds and prevent the birds from eating. According to a National Wildlife Federation article, entitled "Thwarting Backyard Squirrels," tree squirrels are voracious in fall because they are hoping "to fatten up during an autumn of gluttony" so they will be better suited for winter's limited resources. One way to combat this behavior is to invest in a caged tubular bird feeder, such as Droll Yankees new Sunflower Domed Cage in Black.
This type of feeder has been a viable option for backyard birders for many years, but these feeders are not always visually appealing additions to a backyard feeding space. Droll Yankees has a new stylish solution to foil voracious thieving squirrels and nuisance birds. The Sunflower Domed Cage in Black (SDC-B) is the epitome of squirrel resistant songbird selective feeding in a sleek design.
The black accented feeder is comprised of a 15" tubular feeder, housed inside the metal cage, and topped off with a sturdy smoke tinted UV stabilized polycarbonate cover. Quality construction ensures that the feeder will stand up to the elements and look good for years to come. The color scheme of the feeder hardware and cage provides a sophisticated look that compliments any yard and distinguishes it from other caged feeders on the market.
Housed within the cage, the tubular feeder features solid metal and polycarbonate construction. The feeder hardware is durable zinc with a black powder coated finish. The seed tube is composed of UV stabilized polycarbonate. This material is known for its durability. Atop the cage rests a 14.75" diameter smoke tinted cover that is also composed of polycarbonate. This cover will perform dependably for years and is held securely on with a spring clamp so it will not be blown off. It provides additional protection to keep squirrels from infiltrating seed and protects birds and feed from the elements.
The cover has a greater diameter than the cage in order to overhang the cage and keep feeding birds and their seed sheltered. It will prevent rain or snow from spoiling seed and allow birds to feed peacefully and free from weather related disturbances. This protection means that more expensive feed can be offered without fear of being spoiled by weather. The SDC-B is perfect for offering sunflower hearts. The cover keeps the seeds dry within the feeder and the cage means they will be reserved for small birds to benefit from their nutrition exclusively.
With a 10.5" diameter cage constructed of a powder coated metal, the Sunflower Domed Cage will stand up to the elements while providing other benefits. With a wing nut holding the cage to the feeder, the cage is easy to remove for cleaning. The open cage bottom allows used seed hulls to fall through the cage to the ground, eliminating an accumulation inside. The 1.5 inch openings in the cage prevent squirrels and larger nuisance birds from gaining passage inside the cage. Blue Jays, Grackles, Pigeons, Doves, and other bigger birds are too large to enter the cage. The generous diameter of the cage also renders squirrels and larger birds unable to reach inside and access seed while clinging to the exterior. The distance between feeder and cage is too far for them to bridge.
Squirrels are impressive jumpers and are very acrobatic, which makes for a challenge when trying to keep things out of their reach. Droll Yankees recommends placing bird feeders 4 feet above the ground and at least 8 feet away from any trees or bushes to prevent squirrels from leaping onto feeders. Even with these precautions, however, squirrels may still access certain feeders that lack squirrel proofing features. The extra security of using a caged feeder means that seed will be consumed by the target audience of desired songbirds. The Sunflower Domed Cage feeder is a solid addition to any yard plagued by squirrels and bully birds.
Visit http://www.drollyankees.com to learn more about feeding birds and to purchase bird feeding products.
In 1969, Droll Yankees started a bird feeding revolution with Model A-6F, the first tubular bird feeder. Since then, Droll Yankees has built on that success, continually developing innovative approaches to bird feeding that benefit both the birds and Droll Yankees customers. Generations of bird lovers have appreciated Droll Yankees' quality construction, functional simplicity, and commitment to American workers. Droll Yankees offers a Lifetime Warranty Against Squirrel Damage and will replace any squirrel-damaged or defective parts, free of charge. To learn more about Droll Yankees' products, visit drollyankees.com