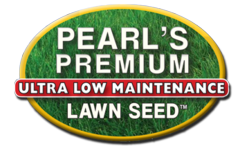 This seed requires an average of 70% less water and 75% less mowing than other grasses.
WAYLAND, MA (PRWEB) April 09, 2013
Millions of U.S. lawns are devastated this spring. The primary culprit: last year's drought. At least 60% of the country experienced the most intense drought in recorded history in 2012. New Pearl's Premium Ultra Low Maintenance Lawn Seed is a low-maintenance, drought-tolerant solution for homeowners for their springtime lawn planting and over-seeding. This breakthrough, third generation grass requires 70% less water than many grasses, needs very little mowing, and is a chemical-free, safe seed alternative.
Jackson Madnick, inventor and founder of Pearl's Premium, spent eight years researching and developing the original breakthrough seed. "I wanted to develop a grass that didn't need mowing every week and would require far less water and no chemicals to keep it green." The result is an all-natural, slow-growing seed that develops deep roots, requires significantly less maintenance, and is safer for children, pets, and the environment.
The benefits of the improved, third generation Pearl's Premium Ultra Low Maintenance Lawn Seed include:

Beautiful: A healthy, lush, barefoot-soft, deep-green lawn
Greener Year-Round: Even in New England winters and Deep South summers
Less Water: After the seed is established, it needs one-fourth the water of other grasses, and in some parts of the country seldom to never needs watering.
Drought Tolerant: New third generation seed is 30% more drought tolerant than before
Low Maintenance: Slow-growing seed requires 75-85% less mowing. For those who want to eliminate mowing, the grass will lean over as "no mow."
Pesticide Free: Never needs chemical fertilizers to stay green. People, Pet, & Planet Friendly™.
Plant on Top of Existing Lawn: No yard dig-up required. Truly low maintenance.
Pearl's Premium has received over 300 favorable, expert reviews on its patent-pending seed mixtures, including numerous television features and reviews published in "Popular Science" and "This Old House" magazines. Pearl's Premium was one of the first prize winners of the worldwide MassChallenge Prize for Innovation, selected from 446 entries representing 26 countries.
Excellent for residential, commercial, and municipal lawns, Pearl's Premium grows in most areas of Canada and the U.S., even in the Deep South. Madnick says the product has been used in well over 35,000 lawns in 50 states; thereby, it has been tested in a variety of soils and conditions.
An inventor and environmentalist, Madnick's efforts have been commended by two White Houses, the United Nations, and Al Gore.
Pearl's Premium Ultra Low Maintenance Lawn Seed can be purchased in Home Depot (Chicago-area stores), Whole Food Markets and Mahoney Garden Centers, on HomeDepot.com, in many independent garden centers, and on http://www.PearlsPremium.com. Mixtures include sunny, shady, and sun/shade. Simple installation instructions are included on the seed bags (available in 5, 25, and 50 lb. bags) and on http://www.PearlsPremium.com.
With the dramatic savings from reduced water, fertilizer, and maintenance costs, Madnick states the product normally pays for itself in as little as two weeks.