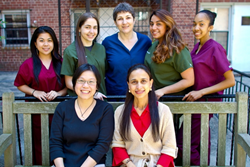 New York Periodontist Dr. Prabha Krishnan Now Raises Awareness about the Dangers of Untreated Decay, Gingivitis and Gum Disease During Self-Awareness Month
Forest Hills, NY (PRWEB) September 20, 2014
As summer vacations end and everyone returns to regular routines, Periodontist Prabha Krishnan DMD in Queens, NY now reminds area patients about the reality and impact of their oral health. "With more than 80% of our population affected by gum disease, there is simply not an option to ignore this problem any longer."
For over 20 years Dr. Krishnan has treated patients with varying degrees of periodontal disease at her Forest Hills office location. "Most patients that come in due to common symptoms such as bleeding or inflamed gums, loose or shifting teeth or persistent bad breath have no idea the extent of this problem if left untreated," says Dr. Krishnan. Once explained, she states, "Inaction is often a result of treatment pain and fear. "
To eliminate the fear of traditional gum surgery, which involves the cutting of the gums, Dr. Krishnan offers a gentle, laser based solution called LANAP®. LANAP (Laser Assisted New Attachment Protocol) is the only FDA cleared laser protocol for fighting gum disease. Utilizing the PerioLase® MVP-7™ laser, Dr. Krishnan is able to vaporize only the diseased gum cells allowing healthy cells to remain intact. Since there are no cuts, stitches and very little bleeding, there is very little discomfort or recovery with this laser gum treatment. Another advantage to this advanced treatment method is its ability to stimulate bone regrowth so that the teeth are firmly anchored in place.
Swift and expert treatment of gum disease is crucial to overall health. Numerous studies show a link between gum disease, heart disease, diabetes, respiratory tract disease and cancer. Pregnant women with gum disease may risk pre-term delivery of a low birth weight baby. Most recently, a research group at Case Western Reserve University's School of Dental Medicine has found a link between colon cancer and gingivitis-causing bacteria that, until recently, were thought to only be found in the mouth.
Those looking for a periodontist in Queens, NY that are interested in learning more about this laser gum surgery alternative are invited to schedule a complimentary consultation with Dr. Krishnan by calling her at 718-878-4878 or visiting her online at http://www.yourgumspecialist.com.
About Dr. Krishnan
Dr. Prabha Krishnan has practiced in the Queens, NY area for over 20 years. She completed her Doctorate of Dental Surgery from New York University College of Dentistry, with a post-graduate specialization in Periodontics. She is a Diplomate of the American Board of Periodontology, an Alumnus of ADA Institute for Diversity in Leadership, and a Fellow of the American College of Dentists, International College of Dentists and the Pierre Fauchard Academy. Her office may be reached at 718-878-4878 or online at http://www.yourgumspecialist.com.