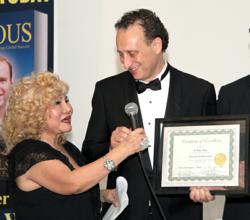 Bill Walsh writes -"Helping people is Dr. Korwin's calling."
Middletown, Red Bank, New Jersey (PRWEB) October 27, 2011
New Jersey Dentist Dr. Robert Korwin, renowned general dentist, teacher, and innovator, practicing in Middletown and Red Bank, New Jersey was recognized for Outstanding Service Representing the Medical Field. The Annual Celebrity Red Carpet Platinum Black Tie Event hosted by Elite Professional Networking Group (EPN) and Black Tie International Magazine, was held at Union Square Studio on Broadway in New York City. The nominating committee of Elite Professional presented Dr. Korwin with the prestigious Certificate of Excellence Representing the Medical Field at the Platinum Red Carpet gala event sponsored by Elite Professional Networking Group, Friends of Black Tie International Magazine, Giorgio G Cognac, (Giorgio Gucci), Meadowlands Liberty Convention Visitors Bureau ,Union Square Studio, Porsche Racing Group.
Other Awardees included Dean Love, a three times Emmy award-winning documentary producer, director, and writer and Bill Walsh, an Entrepreneur of the Year Venture Capitalist. Mr. Walsh commented; "Helping people is Dr. Korwin's calling."
EPN actively supports several Veterans Charity Organizations. A portion of the proceeds from the event benefited Veterans Organizations including Wounded Soldiers, Hospitalized Veterans, Blinded Veterans, Disabled Veterans of Foreign Wars, Vietnam Veterans, Angel Soldiers, USO and many more. The event featured a runway show of 7 fashion designers, with, Miss Russia, and Miss Philippines, Victoria Secret and other models accompanied by members of the Gear Up Foundation New York City Fire Department.
For more information, please visit Drkorwin.com or call (732) 219-8900.
Advanced Dentistry with a Gentle Touch, About Our Practice:
For the last thirty years we have emphasized the importance of the link between oral bacteria and systemic disease. To diagnose this hidden problem, our family of patients has always been screened at every visit for the presence of periodontitis. Our aging patient population has kept their teeth longer than in the past. More evidence is being published about the correlation between periodontal inflammation and systemic disease, and it is even more important to bring this information to you. We have a long record of interceptive and preventive oral health care and we are pleased to help you control and prevent oral disease. Dr. Korwin promotes the good news is that by flossing daily, along with regular professional cleanings the public can protect their health and help prevent gum disease. For further information about flossing and health visit Flossing for Life.
Robert Korwin DMD, MICOI, MAGD, is a renowned general dentist, teacher and innovator practicing in Middletown and Red Bank, New Jersey. With extensive academic, clinical and didactic training, he is one of only a handful of dentists worldwide who have dual Mastership awards from The Academy of General Dentistry and The International College of Oral Implantologists. Dr. Korwin promotes excellence in preventing orally linked disease and provides highly cosmetic dental repair and reconstruction utilizing orthodontics, implants, surgery, prosthetics and sedation, with laser, digital and computer assisted diagnostics. The practice works with patients to maximize their dental health, ensure their comfort and minimize financial concerns.
# # #