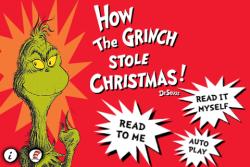 Generations have grown up reading books by Dr. Seuss. Now this generation can enjoy digital versions of those books on their Android devices.
Encinitas, CA (Vocus/PRWEB) December 10, 2010
Oceanhouse Media, Inc. announced today that two of their best-selling digital children's book apps are now available for Android™ 2.1 (or higher) devices. Initial offerings in Android Market™ include The Cat In The Hat, and, just in time for the holidays, How The Grinch Stole Christmas!, each available for the low price of $3.99.
The Cat in the Hat and How The Grinch Stole Christmas!, both written by Dr. Seuss in 1957, have been adapted for the first time to interactive book format for Android devices. Both were initially introduced by Oceanhouse Media as iOS apps (iPhone, iPod Touch, iPad). The iOS apps have been runaway hits, ranking among the best selling apps in the Books category last year. Oceanhouse Media's Dr. Seuss apps have received critical acclaim and won numerous awards from various organizations, such as Parent's Choice Awards and Children's Technology Review.
As with all of Oceanhouse Media digital books, these interactive apps are engaging and educational. To promote reading in young children, individual words are highlighted as the story is read and words zoom up when pictures are touched. By combining original text and artwork with professional narration, custom background music and audio, special effects and features that entertain and promote reading, these digital books appeal to readers of all ages.
"Generations have grown up reading books by Dr. Seuss. Now this generation can enjoy digital versions of those books on their Android devices," said Susan Brandt, President of Dr. Seuss Enterprises. "We have found a wonderful partner in Oceanhouse Media and are thrilled with the quality and features of the Dr. Seuss apps."
For more information on these and other products please visit the Oceanhouse Media website.
About Oceanhouse Media
Oceanhouse Media, Inc. is an app development company founded in early 2009 by Michel Kripalani, former CEO of Presto Studios and Director of Business Development at Autodesk. The team is comprised of developers with decades of experience, primarily from the video game business, that now share a common purpose to uplift, educate and inspire through technology. Currently, Oceanhouse Media has over 125 apps available for Apple and Android devices. The company's corporate mantra is "Creativity with Purpose." http://www.oceanhousemedia.com
About Dr. Seuss Enterprise, L.P.
Dr. Seuss Enterprises was founded in 1993 following the death of Theodor S. Geisel, Dr. Seuss, to conserve and nurture the works of Dr. Seuss by protecting the integrity of the Dr. Seuss books while expanding beyond books into licensed merchandise. The licensing effort is a strategic part of the overall effort to strengthen and protect the relationship consumers have with Dr. Seuss characters. Theodor Geisel said he never wanted to license his characters to anyone who would "round out the edges". That is one of the guiding philosophies of Dr. Seuss Enterprises.
Android and Android Market are trademarks of Google, Inc.
# # #