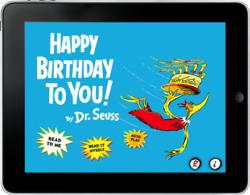 "The NEA and Oceanhouse Media are two wonderful partners to help us commemorate Dr. Seuss's birthday," said Susan Brandt, President of Dr. Seuss Enterprises.
Encinitas, Calif. (Vocus/PRWEB) March 01, 2011
Oceanhouse Media, Inc. announces the sale of its Dr. Seuss apps for one week in honor of Dr. Seuss's birthday and the National Education Association's (NEA) Read Across America Day. Every Dr. Seuss app by the company originally priced at $1.99 - $3.99 is discounted by 25-50% for an entire week.
Adding to the celebration is the release of the free Dr. Seuss Camera - Happy Birthday Edition iPhone app featuring 11 birthday cards. Using the iPhone's built-in camera or Photo Library, cards can be personalized with stamps, borders and classic Seussian text, then emailed to friends and family or saved to the Photo Library.
Two new Dr. Seuss omBooks (Oceanhouse Media digital books) are also available for both Apple and Android devices. Happy Birthday to You! is offered at a special introductory price of $0.99. This is Dr. Seuss's joyous ode to individuality, allowing readers to experience firsthand the thrill of celebrating a birthday as it is done in the land of Katroo.
The second new omBook is the highly anticipated The Cat in the Hat Comes Back available at $2.99 for one week. In this story, the mischievous cat spreads a big pink spot all over the house. When Little Cats A through Z are invited too, will they be a help or a hindrance?
The NEA's Read Across America Day is an annual reading motivation and awareness program that calls for every child in every community to celebrate reading on March 2, the birthday of beloved children's author Dr. Seuss. For more information on Read Across America events, visit http://www.readacrossamerica.org.
"The NEA and Oceanhouse Media are two wonderful partners to help us commemorate Dr. Seuss's birthday," said Susan Brandt, President of Dr. Seuss Enterprises. "Both focus on promoting reading and literacy in children. Nothing would have made Dr. Seuss happier."
Since releasing their first Dr. Seuss app, How The Grinch Stole Christmas!, just 15 months ago, Oceanhouse Media has seen seven of its Dr. Seuss omBooks reach the top spot in the Books category on the App Store. Other Dr. Seuss omBooks recently released include the popular Horton Hears A Who!, and the chart-topping Fox in Socks and I Can Read With My Eyes Shut!
About Oceanhouse Media, Inc.
Oceanhouse Media, Inc., creators of the award-winning Dr. Seuss, Berenstain Bears, Rudolph the Red-Nosed Reindeer and Hay House apps, have recently seen eleven of their digital books reach the No. 1 rank for Paid Books on Apple's App Store. A significant player in the iPhone and Android space, the company has an offering of over 160 apps, numerous bestsellers and proprietary technology. As of January 2011, the company crossed the one million mark of paid app downloads on Apple's App Store. The company was founded in early 2009 by Michel Kripalani, formerly Director of Business Development at Autodesk and CEO of Presto Studios, developers of the hailed The Journeyman Project series and Myst III: Exile graphic video games. The company's corporate mantra is "Creativity with Purpose", with their focus being to uplift, educate and inspire through technology.
For more information on their products and direct links to the App Store, visit http://www.oceanhousemedia.com. Follow the company at http://www.facebook.com/OceanhouseMedia and http://twitter.com/OceanhouseMedia.
About Dr. Seuss Enterprise, L.P.
Dr. Seuss Enterprises was founded in 1993 following the death of Theodor S. Geisel, Dr. Seuss, to conserve and nurture the works of Dr. Seuss by protecting the integrity of the Dr. Seuss books while expanding beyond books into licensed merchandise. The licensing effort is a strategic part of the overall effort to strengthen and protect the relationship consumers have with Dr. Seuss characters. Theodor Geisel said he never wanted to license his characters to anyone who would "round out the edges". That is one of the guiding philosophies of Dr. Seuss Enterprises.
omBook is a trademark of Oceanhouse Media, Inc.
Android is a trademark of Google, Inc.
###