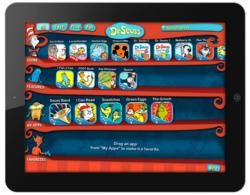 Finding that perfect Dr. Seuss story or entertainment app on your device just got a lot easier.
Encinitas, Calif. (PRWEB) September 19, 2012
Oceanhouse Media, Inc. announces the release of Dr. Seuss Bookshelf, the go-to app for Dr. Seuss books, games and cameras, available as a FREE download in the App Store℠. The first of its kind bookshelf lets users organize, launch and browse their favorite Dr. Seuss apps by Oceanhouse Media on their iPad®, iPhone® and iPod touch®.
Parents and children can easily locate a desired title, select frequently used apps as favorites, instantly launch any Dr. Seuss app installed on their device and conveniently browse more than 45 Dr. Seuss apps in the App Store. They can also sort by type, price or age, or use the search feature to find a specific app. In addition, the bookshelf app provides up-to-date information on new Dr. Seuss releases, sales and suggestions for holidays and special occasions.
"Finding that perfect Dr. Seuss story or entertainment app on your device just got a lot easier," said Michel Kripalani, President of Oceanhouse Media. "With an overwhelming amount of apps in the App Store, parents are seeking trusted guides to point them toward quality apps for their children. We're proud to offer this bookshelf app as a one-stop resource for our award-winning Dr. Seuss apps."
About Oceanhouse Media, Inc.
Creators of the award-winning Dr. Seuss book apps, Oceanhouse Media, Inc. is a leading publisher of more than 245 mobile apps for iOS (iPhone®, iPad®, iPod touch®), Android™, NOOK Tablets™, Kindle Fire™ and HP TouchPad™ devices. The company was founded in early 2009 by Michel Kripalani, a veteran of the video gaming industry. Seventeen of the company's apps have reached the number one spot within their categories on Apple's App Store℠. In addition, Google has selected the company as one of its Top Developers, a designation granted to only 150 groups worldwide.
Oceanhouse Media's corporate focus is to uplift, educate and inspire through technology. For more information, visit http://www.oceanhousemedia.com. Follow the company at http://www.facebook.com/OceanhouseMedia and http://twitter.com/OceanhouseMedia.
About Dr. Seuss Enterprise, L.P.
Dr. Seuss Enterprises was founded in 1993 following the death of Theodor S. Geisel, Dr. Seuss, to conserve and nurture the works of Dr. Seuss by protecting the integrity of the Dr. Seuss books while expanding beyond books into licensed merchandise. The licensing effort is a strategic part of the overall effort to strengthen and protect the relationship consumers have with Dr. Seuss characters. Theodor Geisel said he never wanted to license his characters to anyone who would "round out the edges". That is one of the guiding philosophies of Dr. Seuss Enterprises.
###