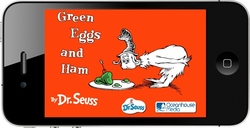 The interactive nature of these marvelous eBooks provides children and adults alike with an educational and entertaining experience.
Encinitas, CA (PRWEB) July 15, 2010
Oceanhouse Media, Inc. today announced the release of three new Dr. Seuss eBooks for the iPad, iPhone and iPod Touch. The best-selling children's classic Green Eggs and Ham, and early reader favorite Hop on Pop are both now available in the App Store for $3.99 each. In addition, Oceanhouse Media released the Dr. Seuss short-story Gertrude McFuzz, available for only $1.99. All Dr. Seuss eBooks are designed as universal apps that can be used on the iPad, iPhone and iPod Touch for no additional charge. These apps also include special high-resolution graphics for the iPhone 4 Retina display.
Green Eggs and Ham, first published by beloved author Dr. Seuss in 1960, has been adapted for the first time to an interactive book format for the iPad and iPhone. Features included in this eBook to support literacy include individual words that highlight and are read aloud when touched, and picture / word association, where the word describing an image is spoken and displayed when the pictures are touched. Professional narration, background audio and a custom soundtrack are also included in this classic eBook. Children will be so entranced and amused by this app they may not even notice they are learning to read! "We are very pleased with the release of the Dr. Seuss favorite Green Eggs and Ham as an eBook," said Susan Brandt, President of Dr. Seuss Enterprises. "The interactive nature of these marvelous eBooks provides children and adults alike with an educational and entertaining experience."
Hop on Pop remains a perennial favorite when it comes to teaching young kids to read. Dr. Seuss created uncomplicated rhymes to inspire children and foster learning. The illustrations are wild and wonderful, and the accompanying language, while simple, is delightfully silly. The book's crowning achievement is how it succeeds at introducing the youngest of readers to the incomparable pleasure of reading a book.
Dr. Seuss's short story, Gertrude McFuzz, is the tale of a young bird named Gertrude who is self-conscious and overly sensitive about her single, seemingly insignificant, tail feather. Her desire to alter her physical appearance grows as she adds first one, then two, then three dozen tail feathers. Ultimately left helpless by her obsession to be prettier, both Gertrude and the reader learn a valuable lesson about accepting and believing in oneself. Through his rhymes and riddles, Dr. Seuss's intention is clear: teach children to read in a way that is both entertaining and educational.
Oceanhouse Media, creators of the award-winning Dr. Seuss apps, reached the milestone of publishing their 100th app with the release of Green Eggs and Ham. "We love developing for these mobile platforms" said Michel Kripalani, President of Oceanhouse Media. "We are incredibly excited about the rate of iPad acceptance and what that means to the future of learning."
The Cat in the Hat was recently awarded the Parent's Choice Silver Medal for Mobile Apps, and four Dr. Seuss apps received Editor's Choice picks from Children's Technology Review in June 2010. Over 300,000 Dr. Seuss apps have been sold since the release of the first app, Grinchmas!, in November of 2009.
For more information on these products and direct links to the App store, please visit http://www.oceanhousemedia.com/drseuss.
About Oceanhouse Media
Oceanhouse Media, Inc. is an iPhone, iPod Touch and iPad app development company founded in early 2009 by Michel Kripalani, former CEO of Presto Studios and Director of Business Development at Autodesk. The team is comprised of developers with decades of experience, primarily from the videogame business, that now share a common purpose to uplift, educate and inspire through technology. Currently, Oceanhouse Media has over 100 apps on the App Store. The company's corporate mantra is "Creativity with Purpose." http://www.oceanhousemedia.com
About Dr. Seuss Enterprise, L.P.
Dr. Seuss Enterprises was founded in 1993 following the death of Theodor S. Geisel, Dr. Seuss, to conserve and nurture the works of Dr. Seuss by protecting the integrity of the Dr. Seuss books while expanding beyond books into licensed merchandise. The licensing effort is a strategic part of the overall effort to strengthen and protect the relationship consumers have with Dr. Seuss characters. Theodor Geisel said he never wanted to license his characters to anyone who would "round out the edges". That is one of the guiding philosophies of Dr. Seuss Enterprises.
# # #