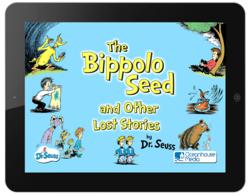 These stories were written at a time when Dr. Seuss was really hitting his stride as a writer and illustrator.
Encinitas, Calif. (PRWEB) September 27, 2011
Oceanhouse Media, Inc. announced today its Dr. Seuss's The Bippolo Seed and Other Lost Stories app is now available for Apple and Android devices. The new Oceanhouse Media digital book (omBook) features a collection of seven short stories written and illustrated by Dr. Seuss for Redbook magazine back in the 1950s, and is being launched on the same day as the Random House release of the hardcover book.
This is the first time the rediscovered stories have been published in book or digital form and the first time that Oceanhouse Media has launched an omBook simultaneously with a physical book's release.
Aside from scholars and collectors, few eyes have seen these rare tales for more than half a century. News of their release has been highly anticipated by Dr. Seuss fans, generating much excitement for readers young and old.
"These stories were written at a time when Dr. Seuss was really hitting his stride as a writer and illustrator," said Susan Brandt, President of Dr. Seuss Enterprises. "It's almost like getting a peek into his creative genius before he published such classic works as The Cat in Hat and Green Eggs and Ham."
"We're extremely honored to be given this opportunity to create an app for a new Dr. Seuss book," said Michel Kripalani, President of Oceanhouse Media. "Our team continually asks, 'What would Ted Geisel (Dr. Seuss) want to see in a children's book app if he were here today?' This helps us in our development process and encourages us to stay true to his original intentions."
Male and female actors from across the U.S. provided the voices for the characters in the omBook which also includes custom features such as Dr. Seuss's original artwork with enhanced color, picture/word association, word highlighting, individual word pronunciation and scene-by-scene custom background audio.
The Bippolo Seed and Other Lost Stories omBook features:

The Bippolo Seed, a mischievous, greedy cat leads an innocent duck astray;
The Bear, the Rabbit, and the Zinniga-Zanniga, a single eyelash saves a rabbit from an insecure bear;
Gustav the Goldfish, a boy overfeeds his pet fish, causing it to outgrow its surroundings;
Tadd and Todd, identical twins in search of their individuality;
Steak for Supper, Seussian creatures follow a boy home hoping for a steak dinner;
The Strange Shirt Spot, a boy who can't seem to get dirt off of his shirt and everything else around him; and
The Great Henry McBride, a day-dreaming boy fantasizes about his career choices.
The omBook can be read one of three ways: Auto Play (geared toward younger readers), which plays like a movie by automatically reading and turning pages; Read To Me, which allows users to listen to the narrated story with words highlighted as they are read; and Read It Myself, which lets users read the book in its traditional format.
The Bippolo Seed and Other Lost Stories omBook is available for the introductory price of $6.99 from the App Store and Android markets.
About Oceanhouse Media, Inc.
Creators of the award-winning Dr. Seuss book apps, Oceanhouse Media, Inc. is a leading publisher of more than 245 mobile apps for iOS (iPhone, iPad, iPod Touch), Android and NOOK Color devices. The company was founded in early 2009 by Michel Kripalani, a veteran of the video gaming industry. Fourteen of the company's apps have reached the number one spot within their categories on Apple's App Store. In addition, Google has selected the company as one of its Top Developers, a designation granted to only 150 groups worldwide.
Oceanhouse Media's corporate focus is to uplift, educate and inspire through technology. For more information, visit http://www.oceanhousemedia.com. Follow the company at http://www.facebook.com/OceanhouseMedia and http://twitter.com/OceanhouseMedia.
About Dr. Seuss Enterprise, L.P.
Dr. Seuss Enterprises was founded in 1993 following the death of Theodor S. Geisel, Dr. Seuss, to conserve and nurture the works of Dr. Seuss by protecting the integrity of the Dr. Seuss books while expanding beyond books into licensed merchandise. The licensing effort is a strategic part of the overall effort to strengthen and protect the relationship consumers have with Dr. Seuss characters. Theodor Geisel said he never wanted to license his characters to anyone who would "round out the edges". That is one of the guiding philosophies of Dr. Seuss Enterprises.
###